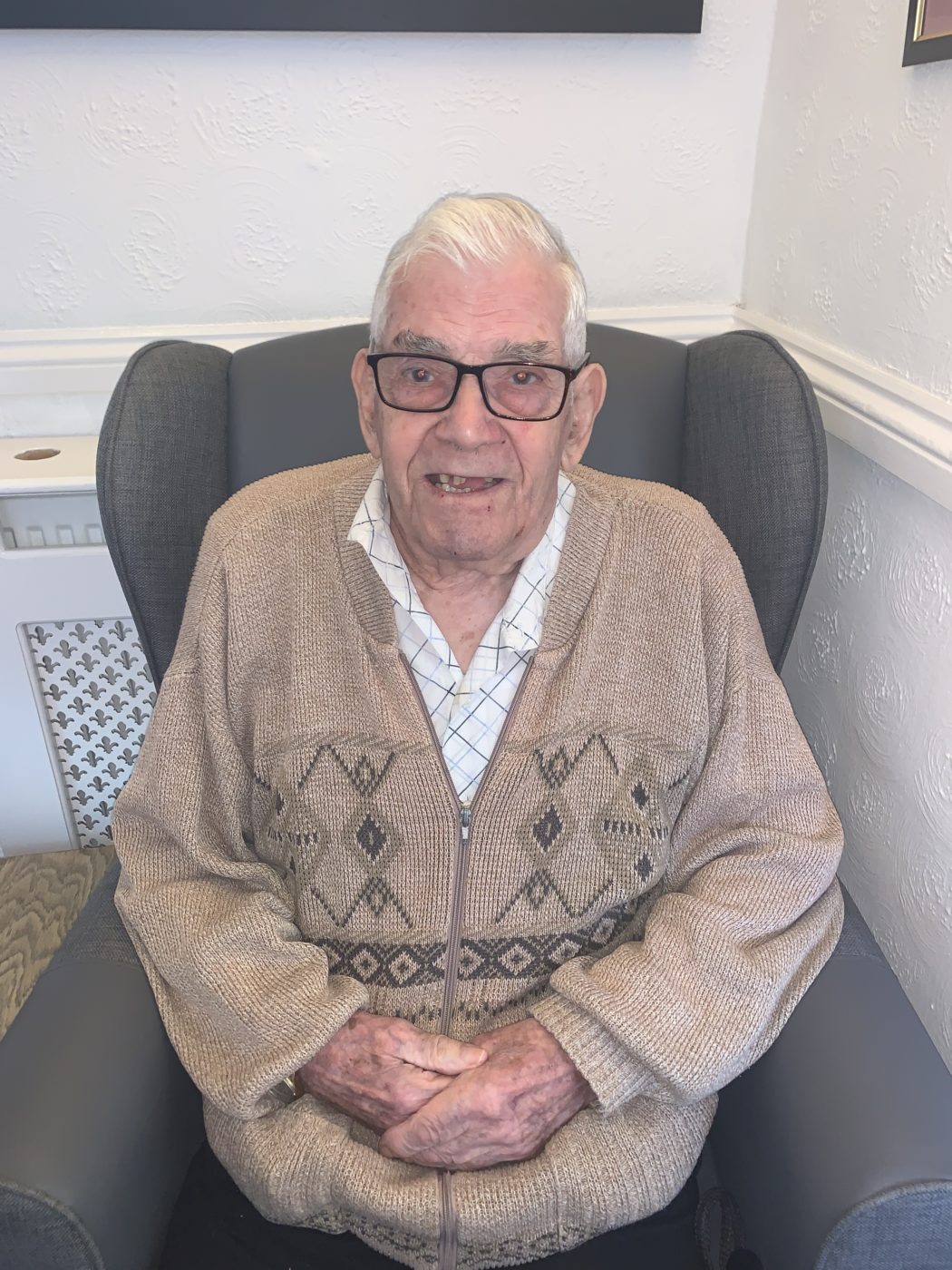 This is the Case study for Harold Brighty known as Harry
This is the Case study for Harold Brighty known as Harold written by Chris Walsh (April 2021)
Monday 26th April 2021
Facilitated by Becky the registered manager of Chestnut Court Care Home I had the greatest pleasure of meeting with Harry who was more than happy to speak with me regarding his experience of living at Chestnut Court. This was not before he shared and enlightened me with his interesting life history.
Harry informed me he was one of 4 boys born in Suffolk in June 1931 but didn't know his mum and dad having grown up in a Dr Barnardo's children's home.  It was a strict upbringing but one he is grateful for because it disciplined him and taught him the manners he has today.   His experience of being a Barnardo's child brought him in contact with the queen at the age of 5 and when she too was just a child.  He told me of his experience of playing hide and seek with the queen and her sister Margaret at Sandringham when a garden party was laid on for Barnardo's children.  This is a very fond memory for Harry.
Harry is a very proud man and is especially proud of his life in the Army as a Corporal in the Glorious Glouster Regiment during his National Service.  He told me he was very lucky to be alive as his time spent with the UN in the Korean War which found him on the front line and being shot at on numerous occasions.  70 years have gone by since he saw himself on the front line of a war which still simmers between North & South Korea to this day.  The forgotten heroes of the 1951 Korean War will remember the sacrifices they made this month April 2021.
Harry is a very sociable chatty man and spends his days sharing his experiences of when he was in the Korean War and life as a Barnardo's child in the 1930's.  Harry enjoys watching TV especially Sitcoms, Comedies and keeping abreast of the news. Harry has a love for flowers and is always very appreciative to receive cut flowers for his bedroom when there has been a delivery to the home.
This tough spirited man in his late 80's continues to remain proud and is very much a central figure of Chestnut Court; he still stands tall and shows respect to others around him.
There is evidence that Harry's memory of recent and current affairs is fading and he needed his memory jogging a little to tell me how he came to live at Chestnut Court.
Harry lived on his own in a static caravan near New Milton and was increasingly finding it difficult to manage by himself.  A carer who works at Chestnut Court lived locally to Harry and would regularly go into him to check he was ok, cook meals and tidy for him. Noticing his gradual decline and with the support of his eldest daughter the carer encouraged and supported him to move to Chestnut Court in October 2020.
When asked about his experience of living at Chestnut Court, with a twinkle in his eye and a wink he said:
"I've nothing to complain about, I am fit and well, I've got everything I need and they [Staff] are good to me, the foods good there's nothing to dislike.  I was very fearful of being poisoned when I was in Korea so I am very fussy about my food but its good".
"Becky [Manager], Lisa [Deputy Manager] and the others [Carers] are all very good to me, they have so much patience I don't know how they do it?"
Lisa the Deputy Manager said of Harry; "he is a really lovely man