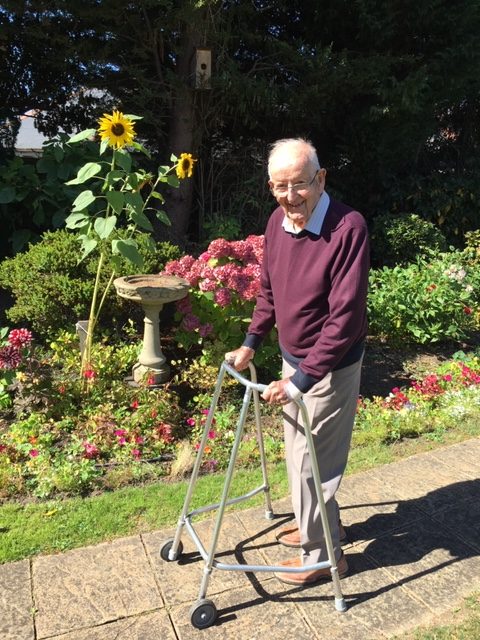 Ashton Manor Nursing Home fit the criteria I was looking for; it has a warm, welcoming and friendly atmosphere created by the staff who always greet you
This is the Case study for Mr Edward Parrish written by His Daughter Kate (October 2019)
Following mums passing a 11 years ago Dad lived at home independently with his little dog called Mouse, I would visit twice a week to do a little bit of cleaning, washing, shopping and helping dad with his garden. Dad's garden was his pride and joy and very important to him, he has won gold awards at the RHS Chelsea Flower Show. All things garden and plants remain very important to him, the room dad accommodates at Ashton Manor looks out to the lovely garden.
I started see a decline in Dads abilities and mobility which isn't surprising at the age of 90, this meant the frequency of my visits started to increase and we had to employ a part time gardener to keep Dads garden up together. Despite being advised not to walk Mouse dad would still go out. On one of these occasions he fell thankfully not injured and luckily helped home by people who knew him.
I could see early signs of Dementia setting in and I knew I had to do something and sought advice and help from Age Concern, who I can't thank enough they offered amazing advice. Home care was arranged via Age Concern, which in time increased in frequency and the number of carers at any one time to support dad's needs.
I had already researched homes in the local area of Farnham where I live with a view to Dad moving closer to me and my family at a later date. But a sudden change in circumstances meant I had to seriously look into full time care. Dad suffered a tear in his esophagus which rendered him in hospital and really took its toll on him, and a further fall which on this occasion was down the stairs and occurred when I was on a family holiday meant I had no choice but to bring a moving in date forward. Ashton Manor already had my details and when I rang out of the blue and said I needed a room ASAP I was able to drop everything and look at the two rooms they had available at the time.
There are many care homes in the locality of Farnham and I visited them all, I just turned up which is what you are advised to do. I knew what I was looking for and where dad would settle and I knew the beautifully decorated purpose built care homes would not be for dad. Whilst money was not my primary concern some of the homes I looked at appeared to be very expensive for what they were offering.
Ashton Manor Nursing Home fit the criteria I was looking for; it has a warm, welcoming and friendly atmosphere created by the staff who always greet you with a friendly hello and genuine happy smile. The home is clean and tidy, just like home from home. Dad's room is just perfect for him, he is a private person but loves to people watch which he can do from his room, he can also see the garden from his room which is important to him.
Its early days but dad appears settled and content and I am gradually getting my head around the changes and a sense of normality back. I still visit every day, at different times but that's my choice and not because I am concerned about dads care, and it does mean I can now go on holiday knowing dad is in safe hands.
My advice to anyone thinking about the difficult decision of placing a loved one in care is to do your research, have questions prepared and observe what is going on in the home when you visit.