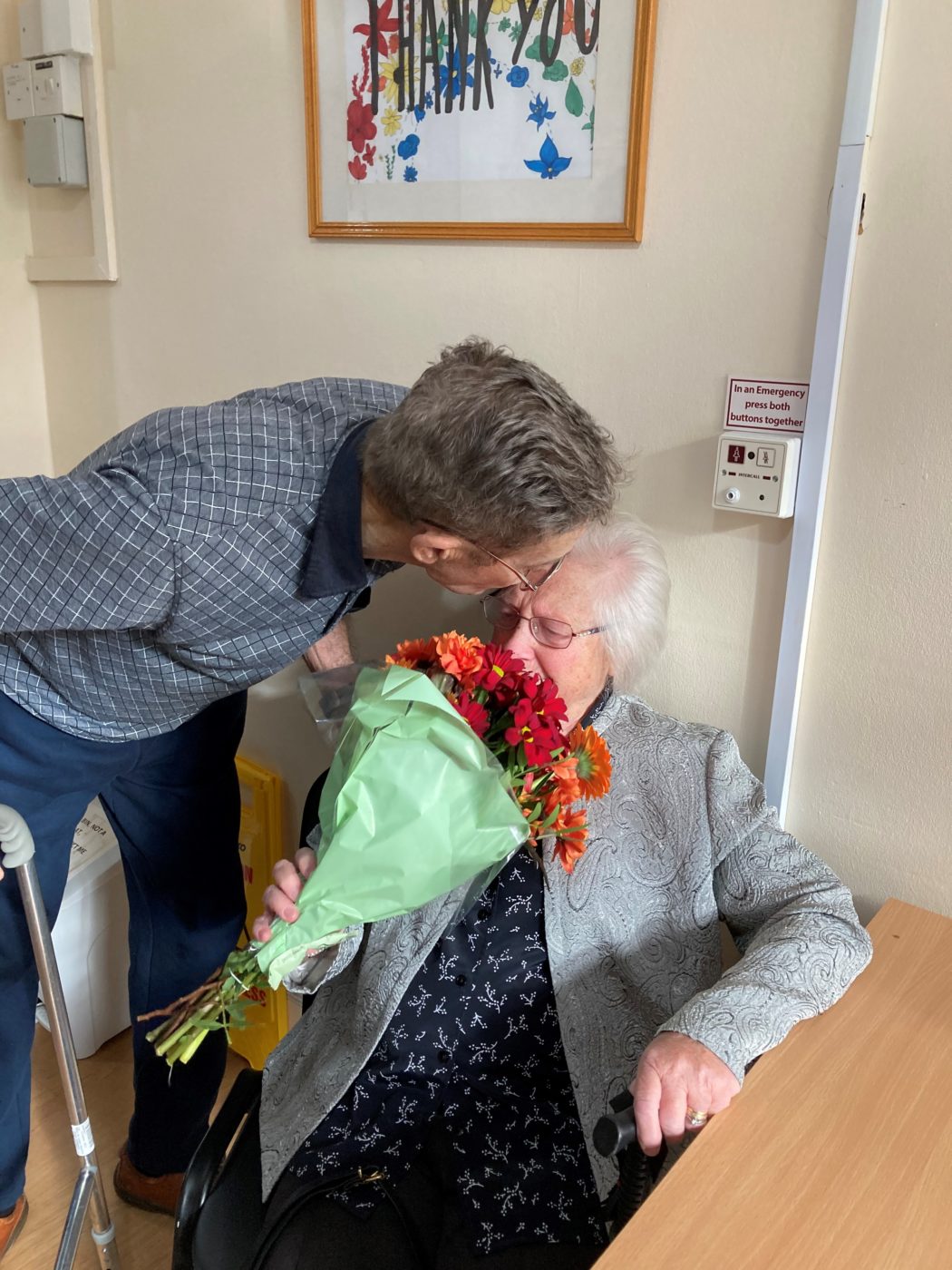 This is the Case study for Mr & Mrs Hoy

This is the Case study for Mr & Mrs Hoy written by Mrs Hammond
Mum & Dad enjoyed all 61 years of their married life in the same house, never wanting to move.  They were both cheerful and popular people, who spent a lot of time at home, but also (until recent years) enjoyed holidays both in the UK and abroad with their family and were always up for fun, games and a laugh.  Dad had worked hard throughout his life, and even run his own businesses.  In later life, when he could no longer play golf or go fishing, Dad enjoyed tending his vegetable garden.
Mum started her working life as a shorthand typist for Lloyds Bank Training Centre.  She liked to keep in touch with friends, family and her grandsons on the telephone, loved how the Co-op was virtually on her doorstep and looked forward to the routine of her daily shop there.  They both enjoyed trips out in the car, to the seaside or to local beauty spots.  During the past 18 months or so, they'd slowly started to need more help to assist them to live at home.  For the final 9 months at home they'd had home carers to administer their meds, provide meals for them etc, since Mum no longer seemed able to manage these tasks.
Although it was my absolute pleasure to do all I could for Mum and Dad it was becoming more and more stressful for me both physically and emotionally. Even though they had home carers, I was their main carer overseeing everything, struggling to juggle looking after them and the daily challenges they posed, whilst trying to hold down a job and attempting to find much needed time to myself for my own wellbeing.
On 10th September Dad fell down a step in his garden, resulting in a cut to his head and a fractured hip.  After recovering from hip replacement surgery, he went to live at Springkell House because we'd been advised his home was no longer suitable for him to live in (due to the number of steps).  We were then concerned for Mum's safety being at home on her own after Dad's accident, and needing more help to live independently
Sadly due to the pandemic and the pressures placed on the NHS and Social Care Dad had no choice in the decision making and was placed in Springkell House Care Home by Social Services after his hip surgery.  Due to Covid-19, Mum was unable to see him in hospital or in the care home and after 9 weeks joined him there as she missed him.  This was her own decision, which was also encouraged by the family because they were worried for her safety being at home on her own.
Being local to the area, we had always been aware of the existence of Springkell House, though knew
nothing about it.  We could have considered moving Mum and Dad to another home but wanted to give it
a go because Social Services had placed Dad there and the carehome.co.uk ratings were good.  It's a
difficult task choosing a care home and with there being so many in the area it's not easy to know which
one to pick (with Covid-19 not helping the decision-making process).
Mum & Dad had spent a month in respite at a very expensive care home the previous Christmas and
loved it, so I was naturally apprehensive that they might not enjoy it so much, as Springkell is less
expensive.  However, it seems my worries were unfounded!  A good choice in my parents' opinion as it
seems both the home, the food and the staff are all excellent and importantly the price is not
over the top.
Dad was discharged from hospital after an 18 day stay, he was muddled, upset and confused to begin
with. It was difficult for him to understand what had happened to him and where he was when he arrived
at Springkell House.  In total since Dads accident it was approximately 9 weeks before we got to see Dad
in person, WhatsApp video calls, organised through the activity coordinator, have been a lifeline during
Covid-19 when visiting was not allowed.   Without them we'd never have been able to see how Dad was
getting on, and notice over time how he began to settle in.
Although this time has been very hard for the families and residents the home is doing its best under very difficult circumstances to ensure they keep Covid-19 out of the home.  We understand the home is doing what it has to and it cannot be stressed how serious the virus is and the need to protect vulnerable people.  This is no easy job and whilst we're anxious to see our family, we also want them to remain safe and virus-free.
My first impressions began about 5 weeks into Dads residency, when we had a home visit from Hessie & Jo the registered and assistant manager to talk about the possibility of Mum joining Dad in the home.  Mum instantly loved them both and decided there and then to move in only a week after their visit!
The day of Mum's move was very emotional, as I felt I was losing my best friend (with Covid-19 restrictions not helping) but the staff were compassionate and took photos of my parents' reunion (after 9 weeks apart) and emailed them to me that evening, telling me what they said to each other and how it went.  They even gave Dad a bouquet of flowers to present Mum with.  It was such a lovely touch as it had been a very hard few days packing Mum's belongings and this cheered me up.  When I was able to visit for the first time (the very next day after Mum moved in), I was impressed with the way the visit was handled and couldn't believe how Mum had already settled in after just ONE day!  Her words were "we are as happy as sandboys"!
I've not been able to see inside Dad's room due to Covid-19, nor the communal rooms, although the staff were kind enough to email me photos of Mum's room after they'd carefully unpacked and organised all her personal effects, which again was a lovely touch as you want to be able to envisage what it looks like inside.  The room looks comfortable and is of a very good size.  She's happy with it and that she was able to have some small items of furniture from home, as well as her favourite pictures on the walls.
So far I've not found out much about the activities from my parents, although I do know they'd been doing an exercise activity which I was pleased to hear about, as exercises are so important for mobility yet they'd never remember to do them at home.  I was pleased to hear that the staff had asked Dad what his favourite music was and had played him some through their new TV.  Mum is a fussy eater but when I visited after her first day she said the food was very good, and I was impressed to discover the home purchases its meat from a highly regarded local family butcher.  She even said how she enjoyed the sausages (yet usually turns her nose up at sausages)!
After one day in the home, Mum could not speak highly enough of the carers and how sweet, kind and considerate they were to her, and interested in looking at and talking about her photos.  I'm sure this played a big part in her settling in so quickly.  Having Dad there helped too, but she's usually the kind of person who gets homesick, so what a surprise it was to see her beaming from ear to ear after day 1!  Hessie & Jo are so approachable, kind and friendly.  It looks as if my parents are now going to be part of one big happy family!
As their main carer previously, I'm now looking forward to a brand new, stress-free life – content in the knowledge they're safe, happy and well looked after!