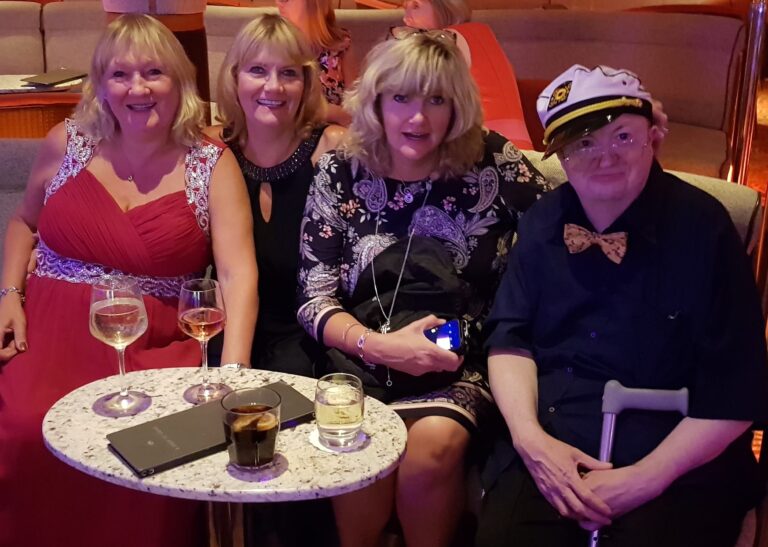 This is the Case study for Mr Roger Whiting written by his Sister Julie Robinson (Sept 2020)
Roger our brother has now been living at Chestnut Court since 29th July 2020, not very long but I am pleased to say he has settled really well and managed the transition from his supported living service without any problems.
Roger was born with a moderate learning disability; he is a great brother to me and his sisters Vicky and Sue full of fun and cheek, although a little set in his ways.  He likes his own company but happy to spend time with others when it's on his terms.  He enjoys a quiet life and freedom to do what he wants when he wants.  He especially enjoys arts and crafts and doing jigsaws, this is why Chestnut Court has worked out so well for him.  He can do the things he enjoys, he can go to bed as late as he likes and if he chooses to stay in his room or spend time with others in the dining room. This is important to Roger.
Message from Roger: "I am so happy to be living at Chestnut Court, I have made new friends and can do my arts and crafts and jigsaws when I like."
Roger moved from supported living where he was living with a group of other people similar in age but who did not have the same interests and needs as him.  Some of his fellow residents were not able to communicate clearly with him and therefore he was reliant on staff for social communication and community based activities.  Sadly we learnt this was not always happening and the place where Roger really liked to spend his time, the arts and crafts activity room was being redesigned into a further 2 supported living units.
We were concerned that Roger was becoming more isolated and we were even more concerned for his wellbeing when we were informed he would have to move to a home in Somerset for the duration of the arts and crafts room refit.  This was an anxious time for us especially as Covid-19 had already limited out contact with Roger.
It was then out of the blue Rogers Social worker informed us of Chestnut Court and the home from home experience they provide for their residents.  We went had a look at the outside of the home the very same day and without hesitation made contact with Becky the manager to have a closer look and to see if she could meet Rogers needs.  For obvious reasons we couldn't enter the home. It happened so fast, which in Rogers case was the best way forward for him.  He also visited the home and from the outside looking into the room he had been offered couldn't believe how big it was, he instantly took a liking to Becky the manager, she couldn't have been more helpful and supportive towards us and Roger.
Roger had to isolate whilst test results for Covid-19 came back, but he didn't mind because he was very happy with his room and the staff regularly looked in on him.
Since moving into Chestnut Court we have seen a change for the better in Roger he is back to his cheeky quick witted self, he enjoys having a laugh and a joke with everyone, he is socialising more with others and has even made a friend who shares his love of jigsaws.
We believe the change has come about in Roger because the staff have openly welcomed him, understand him, and regularly enjoy a laugh and joke with him.  He is given adult choices, which is important to him and it is a warm and friendly home.
Roger knows Becky is the manager and she is busy but this hasn't stopped him appointing her as his keyworker which tells us he is happy and feels safe. We know once the pandemic is over and the better weather is with us again Becky and her team will make sure he takes regular trips out, we are aware he has already been signed up to attend art and craft session in the local community.
We would certainly recommend Chestnut Court to anyone seeking a residential home for a loved one. Becky and her team have been amazing; nothing is ever too much trouble for them.