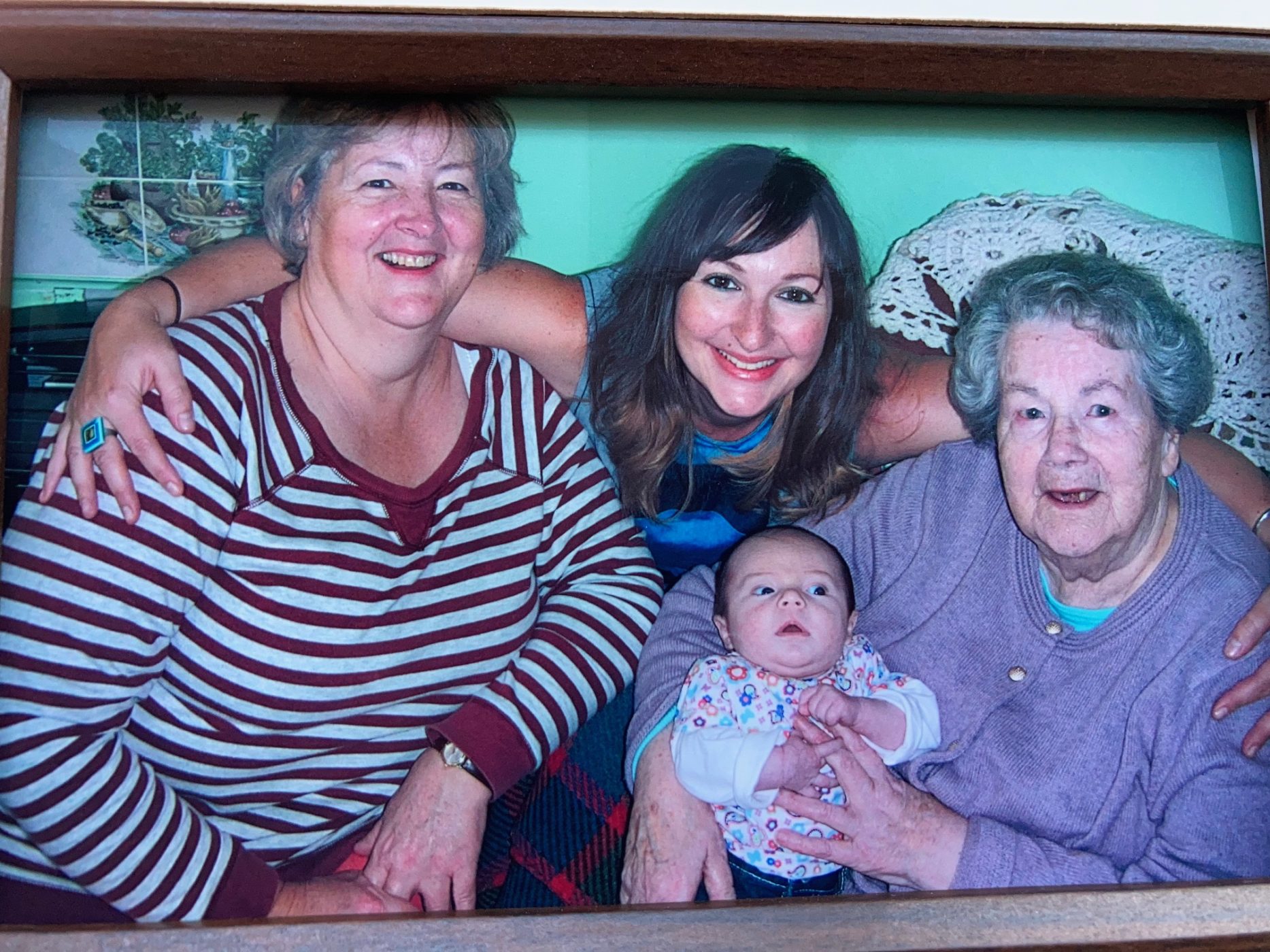 This is the Case study of Gladys Paine written by Mr & Mrs Binfield daughter and son in law
Photograph of Gladys Payne of Ashton Manor with her daughter Liz, granddaughter and great granddaughter
We were delighted when we bumped into an acquaintance of ours and the son of a good friend of mums and to hear his mum was happily settled in Ashton Nursing Home.  His words rang true to us "You never want to think you will have to put your mum into a care home" but he reassured us Ashton Manor was a very good nursing home and mum would be well cared for.
We couldn't of asked for anything better, mum and Mrs K are the same age, and they grew up together living next door to each other and throughout their lives they had been entwined in one way or another.
Mum didn't want to go into a care home; she was living at home with my brother who was finding it increasingly more difficult to look after her.  At the age of 93 she was becoming more dependent on him to help her with her every day care needs.  Following several falls, having called 4 ambulances in a month and increased confusion when unwell with urinary tract infections the worry and concern was taking its toll on all of us.
Unfortunately mum contracted Covid -19 and was hospitalised for 6 weeks and dramatically went downhill, she pulled through, but sadly it was clear mum and my brother were going to need extra support. It was with this in mind and with the advice of professionals at Farnham Hospital that confirmed to us it was time to look for a care home for mum.
Having heard the good things about Ashton Manor Nursing Home and reading the CQC report which was also very good we made contact with them and were pleased to hear they had a vacancy.
We couldn't visit to look around but Charlotte the administrator provided us with a very informative virtual tour, we got to see communal areas, see the bedroom mum could have and we were introduced to staff including nurses, carers and the maintenance man.  It was absolutely delightful a real home from home and even better Mrs K was living there.  We knew mum would be happy to see her friend again which helped ease our minds and the process for her. Mum moved into Ashton Manor in March 2021
Government guidance around Covid-19 and care homes meant mum had to stay in isolation for 14 days, she wasn't overly happy about this but we were reassured she was being frequently checked.  Mum continues to try and be independent and has been known to try and stand and walk without assistance, this has resulted in a small number of falls.  We were asked if mum could have an alarm mat in her room to alert staff when she was up and moving around, reassuring us further they were considering her safety.
The staff are very good at keeping us informed and up to date with mums wellbeing and the situation regarding the Coronavirus, we speak frequently on the phone and we have been sent lovely photographs of mum taking part in activities.
Its early days but we are very pleased with Ashton Manor and how mum has settled, we cannot fault the care and attention mum is receiving and information we regularly receive.  We would have no hesitation in recommending Ashton Manor to others.