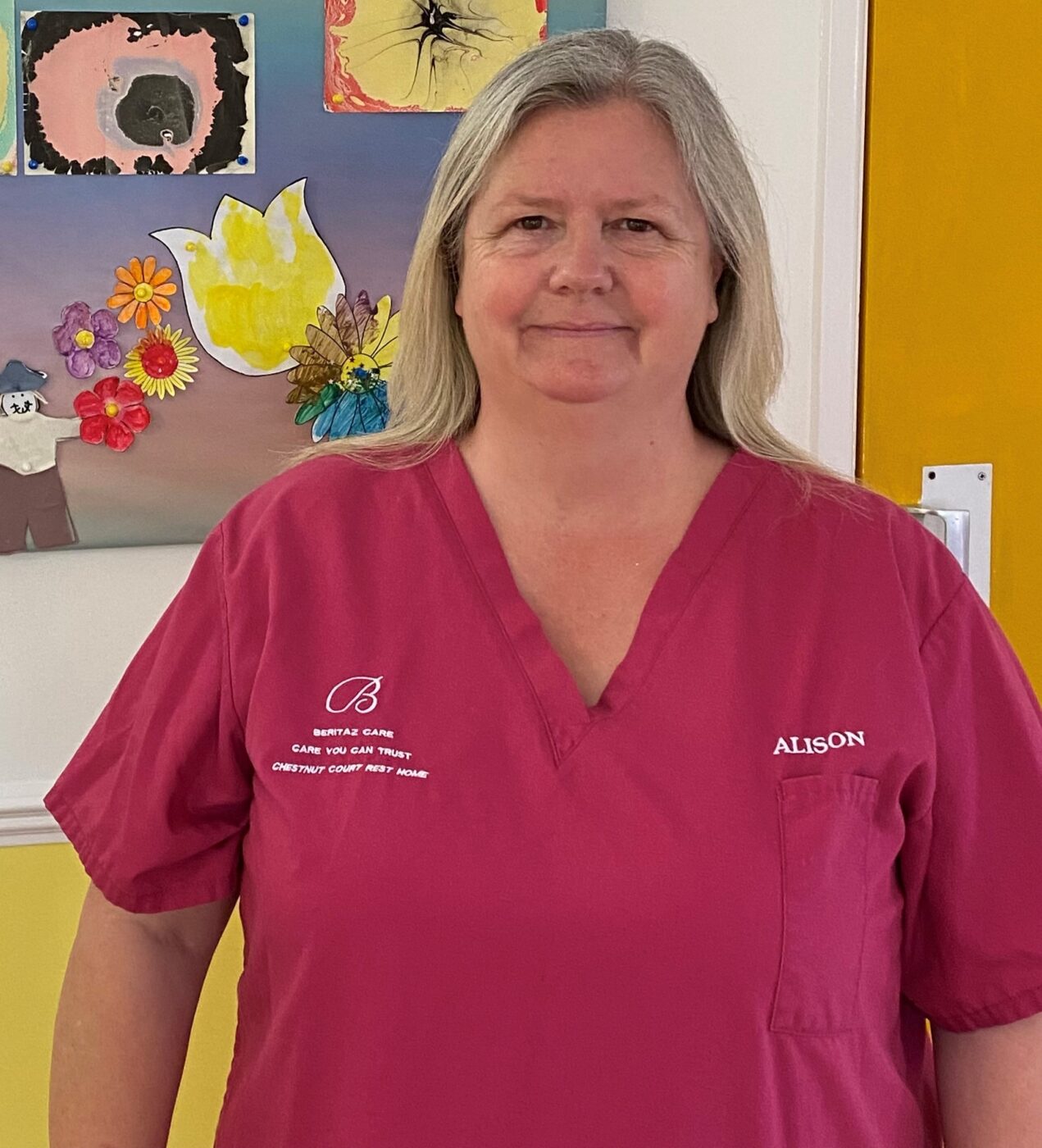 Alison Peverill – Activities Coordinator
"I strive to reach each individual to ensure they feel fulfilled and their needs met, as it is so important for individuals to feel empowered."
Hello, my name is Alison and I joined the team here at Chestnut Court Care Home in February 2022 as Activities Coordinator.
Like many people, I tried to have a work life balance whilst bringing up three children. Care and education establishments have helped me to do this.
Having experienced over thirty years within care and education, I have a varied background.
I have worked for social services in the community for three years as a Carer, a local mainstream school for five years as a Teaching Assistant, RNIB for three years as a Teaching Assistant, within special needs residential homes for individuals with autism as a Senior and Acting Team Manager, in residential care homes as a Carer, Senior, Activity Coordinator, Admin, Deputy and Acting Manager.  I also was an independent carer in the community which developed to a domiciliary care agency.
Throughout my experiences I have been, and am still passionate about person centred care. I strive to reach each individual to ensure they feel fulfilled and their needs met, as it is so important for individuals to feel empowered.  Supporting individuals to re-visit activities they thought they would not be able to achieve again. Enabling them to become more independent and see their confidence grow is an achievement to them and I feel proud and honoured to be invited to come into their home and support the individuals to achieve their goals.
Regarding qualifications, I feel we never stop learning.  I have completed my NVQ3 in Health and Social Care, NVQ3 as a Teaching Assistant and Level 2 RNIB Award in Care.
Thank you for taking the time to read about me and what I have to offer to Chestnut Court.