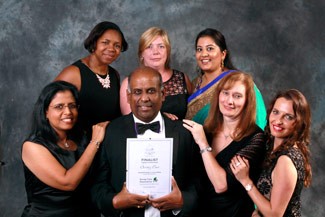 Surrey Care Awards 2014
At Beritaz Care we are incredibly proud to announce that as a company we have been selected as a finalist for the 2014 awards for "Using Technology in Care Settings".
The celebrations took place at Epsom Downs on 21 November 2014 and we were celebrating the really excellent, caring service that goes on in Surrey's care sector. Social care staff are so often unsung heroes and Surrey Care Association wants to change this by highlighting and rewarding their achievements.
As well as showcasing the good practise of Surrey's care providers and their staff, the Surrey Care Awards help raise the profile of adult social care in the county, promoting the wide range of rewarding employment opportunities that exist in our sector.
This is a great achievement for our team, and one we have worked very hard towards during the past few months. We pride ourselves on our technological advancements, using the I Care system on a daily basis to maintain a number of records on all residents, as well as using Careblox for our payroll and our new system, CRM.
In addition to this, we hope to very soon be using an online system to record details of medication for all residents.