Chestnut Court
CARE HOME, NEW MILTON, HAMPSHIRE
Chestnut Court
CARE HOME, NEW MILTON, HAMPSHIRE
Chestnut Court Care Home is situated in an enviable location, between the stunning views of the New Forest and Dorset Coast in the south-west of Hampshire. The home is within walking distance of central New Milton, offering a variety of local amenities including shops, banks and several churches.
Chestnut Court is a homely and comfortable residence, decorated to the highest standards and fully equipped to meet our residents needs. The home is surrounded by picturesque, landscaped gardens, providing the perfect place for our residents to relax and securely enjoy the delights that can only be provided by an English country garden.
'Friendly and relaxed', 'a home to be proud of' and 'sensitive to every need'. These are some of the wonderful comments we have received from visitors to the home, who regularly speak highly of the quality of care, warm welcome and comfortable atmosphere provided at Chestnut Court.
In addition to standard residential care, our specialist medical, nursing and auxiliary staff are able to provide support for individuals afflicted with a wide range of specific medical conditions. Our highly skilled team offer compassionate care for those suffering from dementia, Alzheimer's, epilepsy, Parkinson's disease, multiple sclerosis, or those recovering from a stroke. All Chestnut Court staff are also experienced in helping hearing-impaired residents, using visual aids and alternative communication methods.
We are very proud of the comfortable, homely environment we have created here at Chestnut Court providing a peaceful sanctuary for our residents where they enjoy spending their time.
CARE SERVICES
A snapshot of Chestnut Court
Chestnut Court Care Home is a welcoming haven for those requiring short-term or longer-term continuing care, given by our experienced and dedicated team of staff. The home provides residential and specialist care, with 25 single rooms and offering adapted en-suite facilities.
COSY ROOMS
En-suite rooms
Own furniture if required
Adapted bed facilities
Emergency call system
Pets by arrangement
Phone point in room and mobile access
Internet access
Television point
Wheelchair access
Newspaper or magazine delivered (by arrangement)
MIND & BODY
Our activities and events
Short walks to the local town shops and amenities
Various outings in minibus
Weekly mobile shop
Musical performances by local entertainers
Gardening club
Dominoes club and various games
Newspaper reviews
Variety of themed days for seasonal events
Events for family and friends
Jointly organised events within the community
FINE DINING & RELAXING SPACES
Dining & communal areas
Dining suite
Home-cooked food
Two comfortable lounges
Library and reading area
Emergency call system in communal areas
MEDICAL & PERSONAL CARE
Key information
Regular medical reviews with frailty team
GP visits by arrangement
Support from physiotherapist and occupational therapist to help residents maintain and improve their mobility
Regular district nurse visits, community practitioners and optician
Chiropodist visit every six weeks
Hairdresser visits weekly
Laundry services provided at no extra cost

Chestnut Court Care Home Manager: Lisa Shaylor
Telephone: 01428604414
Address: Chestnut Court Care Home, 9 Copse Road, New Milton, BH25 6ES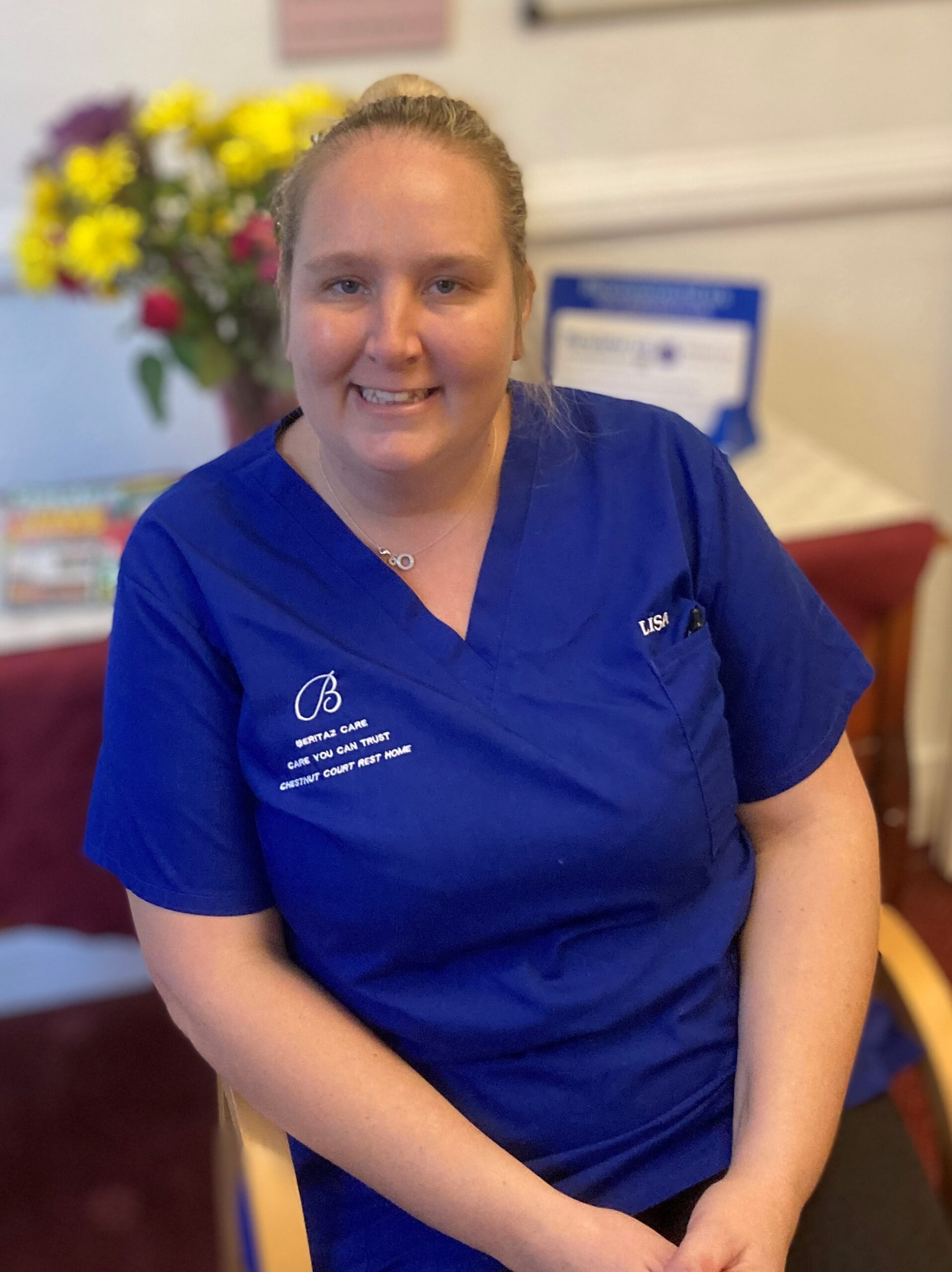 Lisa joined the Chestnut Court team in February 2016, initially working nights as a Team Leader. She has now taken on the role of Home Manager at Chestnut Court. She works hard to be supportive to residents, their family and friends and is on hand for a chat if there are any concerns. Lisa will always go the extra mile. She has grown in confidence since progressing to the role of Homes Manager, she values the support she receives from the team at Chestnut Court and the Business Support Centre. Lisa has a bit of a sweet tooth and readily admits that her weakness is chocolate cakes and biscuits.

Respite care

On-site salon

Table service

Single en-suite rooms

Activities & events

Free parking

Minibus
Chestnut Court Care Home News
OUR FAMILY FOR YOUR FAMILY
Care we provide across our home