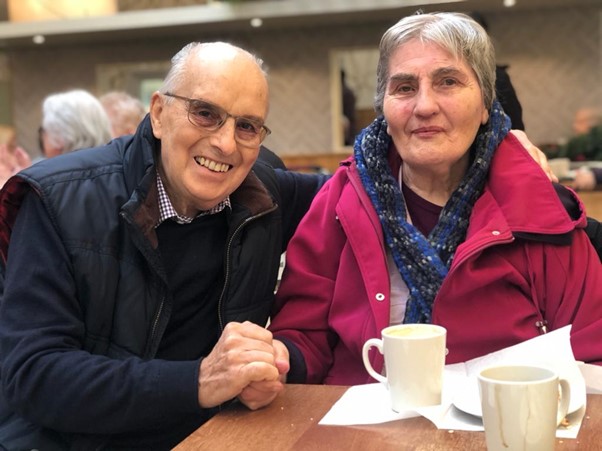 This is the Case study for Thelma Stewart written by her husband Donald (November 2020)
Thelma and Don enjoying and outing to a garden centre with Ashton Manor December 2019.
This is the Case study for Thelma Stewart written by her husband Donald (November 2020)
Thelma and I have lived and worked in many places around the country. My career mainly involved working in the Chemical industry following gaining a Doctorate [Ph.D.] into research I undertook at university. The last 20 years of my career we spent in South Africa where I worked as an Operations Manager managing Health & Safety and establishing Quality Management systems required to meet ISO9002 International Standards.  Prior to retiring Thelma worked as a Civil Servant as an Income Tax Officer, she was blessed with a good mathematical brain, her mental arithmetic was very good, it had to be because they didn't have calculators in those days. We both had interesting fulfilling careers.
It was when we were living in Scotland 7 – 8 years ago I started to notice little things about Thelma's memory she would forget what had happened in the morning and if we had met somebody she couldn't remember their name, it was simple things but it was becoming a concern.  We arranged for Thelma to see a Neurologist and a brain scan showed the first signs of Dementia developing.
Our daughter lives in Farnham and it was her who suggested we move down from Scotland to be nearer to her and her family, we agreed and she set about finding us an apartment and we moved in 2015.  Thelma was still mobile then and able to do most things for herself, but sadly she started to have problems with her legs weakening which led to occasional falls.  Thelma would forget she was unable to mobilise safely by herself but on occasions would try to do so.  By this time I was not only tending to Thelma's needs I was carrying out all the domestic chores.  Reality struck one day when Thelma left the apartment by herself, I caught up with her as she was disappearing just out of sight.  I had been busy in another room and hadn't heard her leave, It was concerning because I wasn't sure I would be able to keep an eye on her all the time.
Hoping to slow the progression of the dementia via stimulating activities my daughter looked into daycare facilities in care homes.  It was during this search she came across Ashton Nursing Home just 1.5 miles from where she lived.  Following some enquiries Susan the Assistant Manager visited us and carried out an assessment of Thelma's needs to be sure the home could meet them.
It was agreed the home could meet Thelma's needs, a room was picked which has an en-suite and Thelma moved in.  She has been a resident at Ashton Manor now for 2.5 years and whilst her Dementia has progressed we could still share special moments together, holding hands, listen to music, look at old photographs and reminisce and interact with other residents and visitors. That was until unfortunately Covid-19 struck.
Ashton Manor has a very warm and welcoming atmosphere which one immediately senses on entering the building. Complementing this atmosphere is the excellent housekeeping within and without the building. Within the home, there is a real community spirit amongst the residents who are cared for and attended continuously by a dedicated and enthusiastic staff team.
Staff kindness was extended to my wife and myself when we recently celebrated our 60 years of marriage, the Staff decorated the awning in the garden with balloons and a Happy Anniversary greeting. This gesture really added to the happiness of the occasion.  In the Summer visits were carried out in the garden which were enjoyable and gratifying, we are now able to meet in a room inside the home but the staff are very careful to ensure we are following correct infection control procedures and there is a Perspex screen between us.
The home is managed with vision and efficiency, assisted by regular meetings and communications with Relatives, thus ensuring the optimalisation of the care required by each and all of the Residents.
"I can see Thelma is happy and content and this has to be because of the friendly, helpful any caring relationships she has developed with staff".