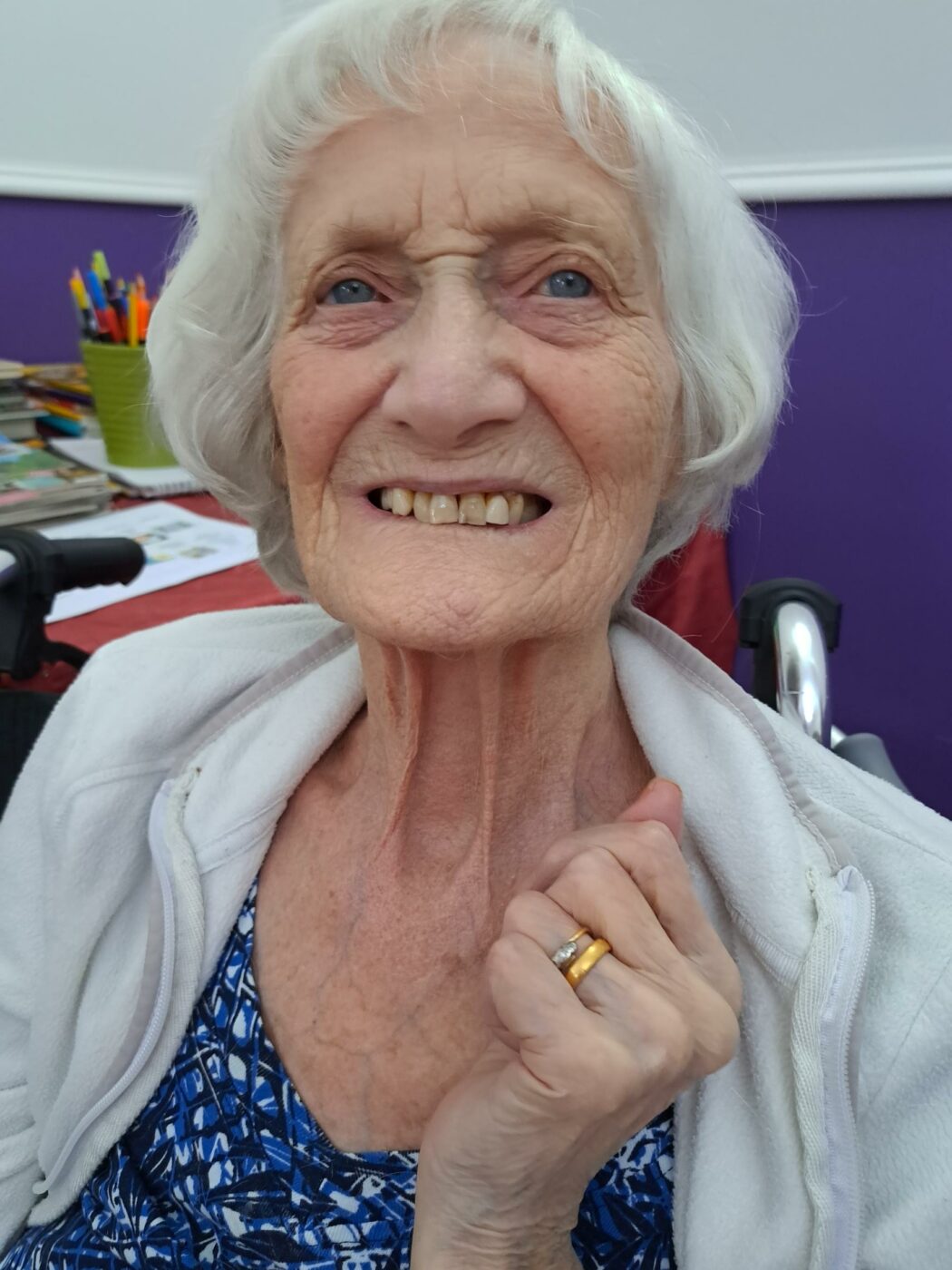 Barbara Roberts
Barbara has been a resident at Windsor Court Care Home since the end of 2022 and we are delighted to have her stay with us. Barbara's daughter, Sarah was put in touch with Windsor Court following on from discussions with the social worker about how best to accommodate her mother's needs.
Sarah explains "I first heard about Windsor Court through the social worker so we decided to arrange a tour. When we visited the home we had a really good first impression and were happy it would be a good fit for Mum. They were able to let Mum move in quickly which was very helpful."
The main priority for Sarah was to ensure that the home they chose could cater for Barbara's specific needs and provide her with the care she requires. At Windsor Court we tailor our care to the individual, getting to know each resident so we can ensure they are supported in every way by our team of dedicated care and support staff. "Windsor Court were able to cater for Mum's needs at night, which was very important to us. They were able to fully meet her individual personal needs", says Sarah.
As well as the care services offered, Sarah and the rest of Barbara's family were impressed by the atmosphere of Windsor Court and the facilities at the home. "I like the dining experience for Mum, her room is cosy, the activities are good, and Mum's needs are met" says Sarah.
Barbara's family were keen to find the right home in the perfect location, nearby to family members so they could visit her regularly. They were looking for a home with a friendly atmosphere and caring staff who they could feel reassured would take great care of Barbara. At Windsor Court we treat all residents as if they were our own family members, taking the time to get to know them and making sure they are happy. Barbara's bedroom at Windsor Court is decorated with family photos, which she loves to look at and help her to feel at home here.
Barbara has always enjoyed gardening as a pastime, since coming to Windsor Court she has taken part in various gardening activities with the other residents and is known for the lovely hanging baskets she creates. She loves to spend time outside in our beautiful gardens during the warmer months, and when inside likes to look out at the spring flowers and the magnolia tree in bud. Barbara really enjoys visits from the animals at Caring Canines, as she used to have cats and dogs as pets and take caravan holidays in the forest with her own dog. It is wonderful that she can still enjoy being around animals and spend time with the lovely dogs Koby and Juneau from Caring Canines
We feel it is important for residents at Windsor Court to have a sense of independence, deciding what activities they want to get involved with, what they would like to eat, and offer any support we can to ensure they are living their lives to the fullest.
Since her mother moved to Windsor Court, Sarah has had only positive experiences with the home and all the staff here, "I love them all, I haven't come across one staff member who is not welcoming. I see how kind everyone is to my mum. It's the small details and careful attention they pay that mean so much."