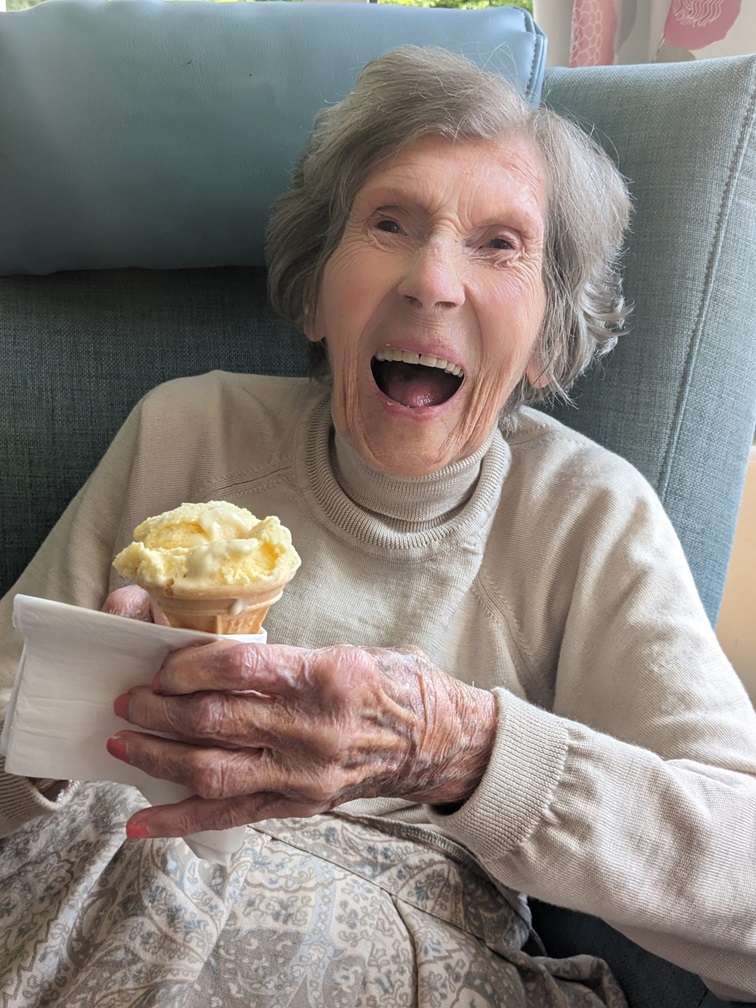 Joselyn
Joselyn came to stay with us at Robertson Nursing Home in the spring of 2022 and we are delighted to have had her as a resident at the home since then. Joselyn was initially in need of respite care following a hospital procedure, her family were concerned that she would struggle at home so they wanted to find somewhere that she would be safe and well cared for during her recovery. Joselyn, her daughter Liz and the rest of the family were already familiar with Robertson Nursing Home, their family home being located just round the corner meant they knew the local area very well.
"At the time she had a sarcoma on her leg, it was scheduled to be removed and she was to have outpatient care at the Royal Surrey Hospital. She had suffered a bad fall at home a short while before and we were very concerned for her being at home on her own after the procedure," explains Joselyn's daughter, Liz. "We know she would need respite care, having a visiting nurse come to the house maybe once a week wasn't going to work for her. At home she would have been in danger. As we don't live round the corner, we needed the reassurance she would be cared for after the procedure and have support while she was healing."
Due to Joselyn's medical needs her family wanted to find a suitable home that was comfortable for Joselyn and could provide nursing care. While Joselyn's family were looking for respite care during her recovery, they also wanted to find a home where she would be happy to stay permanently if needed. "It was important for us to find somewhere she could settle in long term if it felt right for her and us. Because of the type of home Robertson is, the fact that it is a nursing home and that there was a vacancy at the right time, it was a no-brainer. We liked the idiosyncratic arrangement of Robertson, how it looked and the style of the rooms. The way it was decorated was very similar to my mum's home. As she was suffering with confusion and anxiety after her fall, we felt that sense of familiarity would help her settle in much quicker."
Moving a loved one into a home for either respite or longer-term care can be a difficult experience, at Robertson we ensure our staff are there to help with the process and to support the whole family. "When we had decided on Robertson for respite care, I remember Angela paid us a visit at the family home when my brother and I were there, for a sort of pre-assessment. Speaking with her felt like a friendly chat, it put my mum at ease before the day of the move and was a really lovely touch. This seemed like quite a unique practice to the home and they were very thoughtful about how they approach things, particularly during what can be a very stressful time for a vulnerable person."
Every staff member at Robertson plays a vital role in providing support to the residents in our care, we also take the time to get to know family members and friends, making sure there is always a good line of communication between the home and residents' loved ones. "The staff are always friendly and welcoming, always making time for us even when they're busy. I can't fault any of them, from the lady in laundry to the care assistants, Gabi and Angela, as well as all the nursing staff. All have been friendly and welcoming to us as a family and they are obviously very fond of Mum, which reassures us that she is safe and cared for."
Residents in Robertson are encouraged to take part in various activities, designed to accommodate all abilities and a wide variety of tastes. We care about our residents' mental wellbeing, ensuring we provide opportunities for social interaction and having fun. "They have the minister from the local church who comes regularly to perform services in the library, my mum loves those services and is always keen to go along. They also have sing-song sessions regularly which she loves, and seniorcise which she joins in with as much as she can. There are often visiting entertainers and celebratory parties, like for the coronation. The activities on offer really make things lively at the home, it brings a bit of fun to people that might otherwise become isolated in their own thoughts."
"I never thought of my mum as particularly gregarious person, but it's brought her out of herself. She has been more happy than I've seen her for many, many years since she came to Robertson. She gets very tired these days, so joins in more on some days and others may stay in bed. The staff accept that and support that, they say it's her home and she can make that decision. There isn't pressure to fit the routine of the home and that's really great, as it's important for Mum to feel she has control in her life."
Earlier in 2023 Joselyn unfortunately suffered a fall, she broke her pelvis and had to spend a significant time in hospital as a result. It was an extremely traumatic experience for Joselyn as well as her loved ones. "Mum had given up in the hospital, she didn't want to eat and we could see her starving. I popped into Robertson a few times to pick some things up for her and to update them, they were also calling and emailing me for updates and to see how she was doing. They don't just let go because she is not with them, they don't abandon you, they maintain contact and stay involved."
Everyone at Robertson was very keen to seen Joselyn return to the home, unfortunately the process to get her discharged from the hospital was not an easy one. "When it reached the fourth week of trying to get my mum discharged from hospital, I was getting desperate. I reached out to Gabi and Angela to get their help with the discharge as the date kept getting moved. Gabi spoke to Dr Grove, their visiting GP, and they both got in touch with the hospital to reassure them that a discharge could occur because of the provisions at the home."
"When she was finally discharged I rang ahead to let Robertson know the ambulance was on its way to them, they were ready and waiting for her to arrive and had her room all prepared for her. They were so welcoming and everyone was so glad to have her back, the staff kept popping by her room to say hello and to tell her how happy they were to have her back. it was her 93rd birthday on 14th May [2023], and she had been back at the home for a week or so by then. When she came out of the hospital, I didn't think she would make it to her birthday. It's incredible what progress she had made after that trauma, I didn't think she would walk again but she did."
Following her extended stay in hospital, Joselyn was severely malnourished and appeared very thin and weak. She had given up eating which was extremely worrying to both her family and the staff at the home, they had little hope that she would improve and would eat properly again. Upon her return Joselyn's nutrition became a major priority for the Robertson team. Robertson's Head Chef, Sharon spent time carefully observing Joselyn's eating habits and came up with a strategy to ensure Joselyn could consume the maximum number of calories in the smallest portions of food.
Sharon took the time to gently ease Joselyn back into eating, putting tiny portions on her plate to not overwhelm her and gradually increasing these over time. Slowly Joselyn started to increase the amount she was comfortable eating, to the point that she began to ask for seconds. Joselyn's evening sandwich, although the same overall size, was cut into bite-sized tiny squares which helped her to gradually feel happy to start eating more food. Thanks to the hard work and patience of Sharon, Joselyn's weight increased back up to a healthy level.
"Sharon is a lovely lady who was quite exceptional in her approach to Mum and her eating, when she returned after her hospital stay. Sharon's effort, strategy and thought behind this planning has been quite exceptional and is now paying off.  Mum is now looking much healthier, stronger, and happier.  We never thought we would see this kind of progress in such a relatively short time.  I am 'blown away' by Sharon's determination on this; she really is quite an exceptional woman, and I am so grateful to her for the determination and planning behind this."
We are delighted to have Joselyn with us at Robertson Nursing Home and to know that we have helped her to feel comfortable and happy here. We are also pleased to know that her loved ones have the reassurance she is well cared for and receiving all the support she needs. "It has taken a load off my mind, I don't wake up wondering if she's okay or if she's had a fall and what if I don't call in time. That weight has been lifted, she is in the safest place she could possibly be and she is happy. She has made amazing progress."