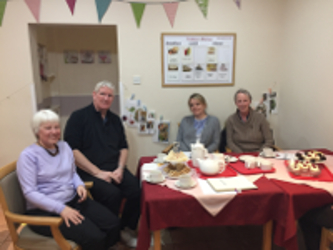 The Case study of Mrs Jennie Hills by her Son Mr Peter Hills. (May 2019)
Before finding Springkell House mum was a patient at East Surrey Hospital in Redhill and then transferred to Dorking Cottage Hospital. I had considered Domiciliary Care for mum, but we were told by Social Services mum would not be able to return to her flat and deep down I knew it wouldn't be right for her. We were given a list of care homes; I found the process very emotional and stressful.
But I was happy to find Springkell House, I like the location of Hindhead, it was important to find somewhere near to where we live. Hindhead is a lovely place and gives us options to take Mum out for small trips to the Punchbowl for a cup of tea.
We visited Springkell House "unannounced" and liked it immediately, we met a relative of another resident in the car park and got chatting they gave us very good feedback about the home. I was pleased to hear Springkell House took both Private and Social Services funded clients, it doesn't feel like a big revenue making business like some care homes.
I like many things about Springkell House, I like the building, the feeling of light, the social events such as the garden parties and Carols at Christmas, the activities provided by Danka are also good. The Newsletter keeps us informed, we love the idea of the children's nursery coming in.
I like the staff I have built a good repport with them, they are very approachable if Bikram is on duty he always opens the door before I get to ring the bell. The tea service is very good even Nigel the handyman will make the tea when he is around!
When Karen the manager was nominated for an award I was more than happy and pleased to support this when asked.
I immediately liked Springkell House and would have no hesitation recommending Springkell House to others.