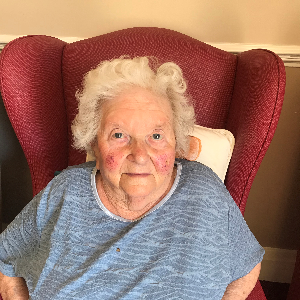 This is a Memorial to Marjorie Couzens who Passed away at Chestnut Court Care Home in Newmilton
RIP: 99 Years
Marjorie was admitted to Chestnut Court on 21st May 2020, just as we were coming out of the height of the Coronavirus pandemic for the first time.
Sadly Marjorie passed away on the 21st March 2021 at the grand age of 99 years, she is very sadly missed by the staff and residents at Chestnut Court.  Marjorie's passing was not Covid-19 related.
Marjorie was an exceptional character and a special person to have around, she was a people person who brought a sparkle to every ones day, we regularly had a laugh and a giggle with her. She befriended all the residents and shared love and care to other residents less able than her and she was very well known within her local community.
She loved nature especially listening to and watching the birds in the garden, and such a love for flowers, she could name every type of flower.
Her daughter Jayne was very grateful for the care we provided at Chestnut Court announcing this in the obituary of the local paper and sending us her sincere thanks in a beautiful card.
To Becky & All the Team
Thank You!
For all you did for mum, all the very best to you all Jayne Hansome xxxx