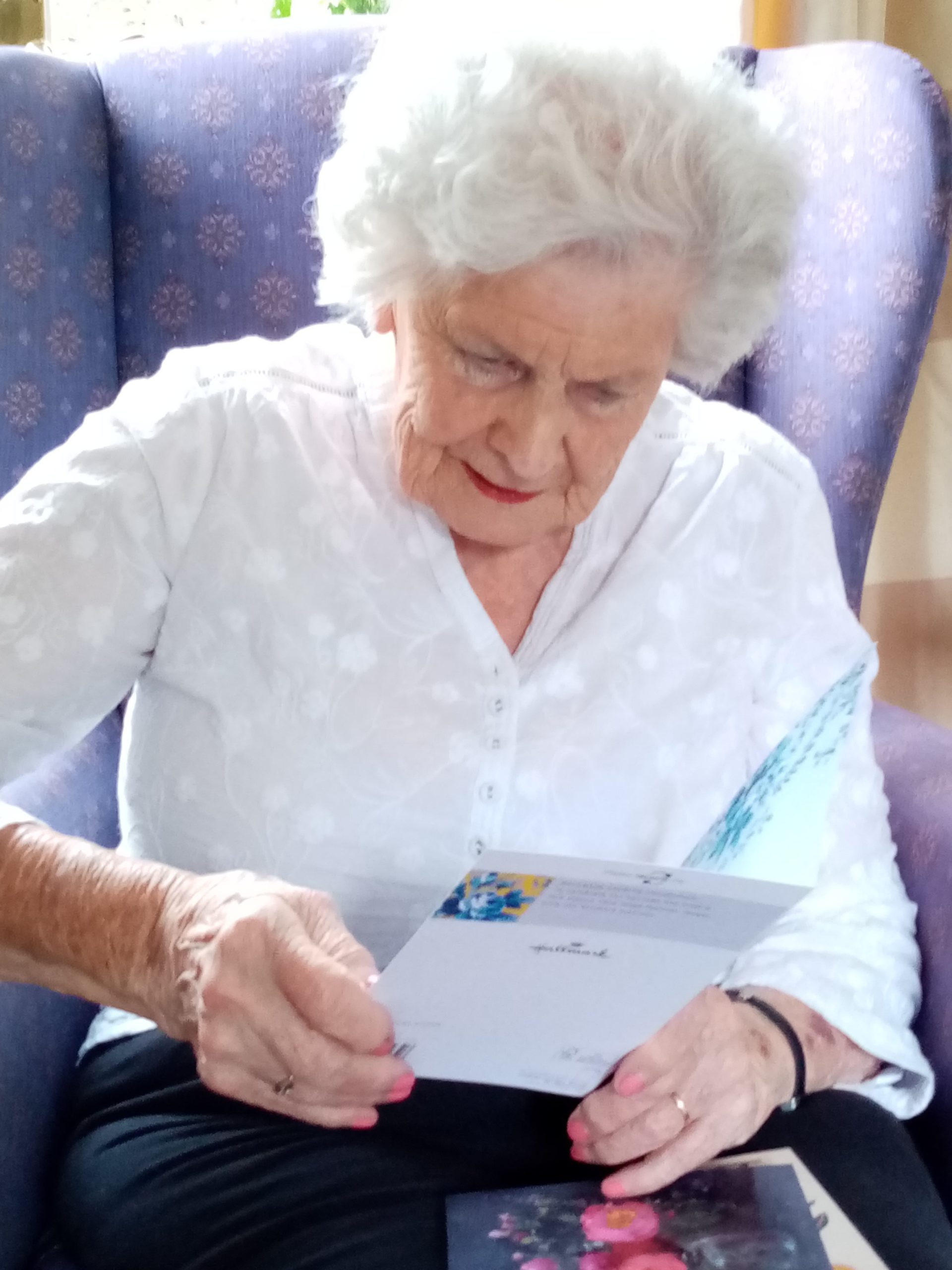 This is the Case study for Janet McAnsh (Known as Jenny) Written by Mrs Janette Weller
Jenny opening cards on her 94 Birthday & Jenny meeting her great grandson face to face for the first time
I cannot speak highly enough about the quality of care and the dedication of the staff at the Robertson Nursing Home: Penny's excellent leadership and the kindness and hard work of the carers and all the staff combine to create a home-from-home environment.
We are originally from the Island of Bute in Scotland, where mum lived until 2015. Living in Surrey with my family meant I wasn't able to visit as much as I would have liked and I didn't realise just how much mum's memory had deteriorated. She and dad insisted they were fine and they soldiered on.
Following the sudden death of my father in 2015, mum came to live with us. After 18 months it became clear that she needed more care and support than I was able to give and I took the difficult decision to look for alternatives. Initially, I tried respite care to allow us to have a holiday. In spite of my initial favourable impression, I was not happy with the standard of care mum got in the home I chose for this and it was clear to me she would not be moving in there permanently. This meant looking around at other homes, I looked at a few but the standards of cleanliness, the environment and greeting I received did not impress me, until I visited Robertson Nursing Home in Godalming.  As soon as I walked in the front door there was a homely feel, (this impression has been echoed by friends and relatives who have visited with me since mum moved in). The staff could not have been more welcoming, friendly and helpful.  The home is so cosy and comfortable and nothing is too much trouble.
Mum became resident in 2016 and she has a lovely room with French doors facing the front garden. It was difficult at the beginning as mum didn't settle too well, but she gradually got used to it, hugely helped by the special bond that she developed with "Pink Penny", the activities co-ordinator. I was kept informed and was, and continue to be, very grateful for the help and support from Penny and the staff: they really made me feel part of the Robertson Family. I was extremely relieved that Penny took the decision to close the home early in 2020, at the very start of the pandemic, and I feel she has navigated the team brilliantly through the ever-changing regulations, resulting in the home remaining Covid-19-free. Weekly updates were sent throughout the various lockdowns telling relatives how life was continuing in the home. I was able to speak to mum regularly on Skype and, with testing and mask-wearing, I am delighted to be able to visit mum again. And we have been able to take Finley, her first great-grandchild, in to meet her.
I can't thank Penny and her team enough for what they have done for mum and me: knowing mum is being well cared for has lifted a huge weight from my shoulders.