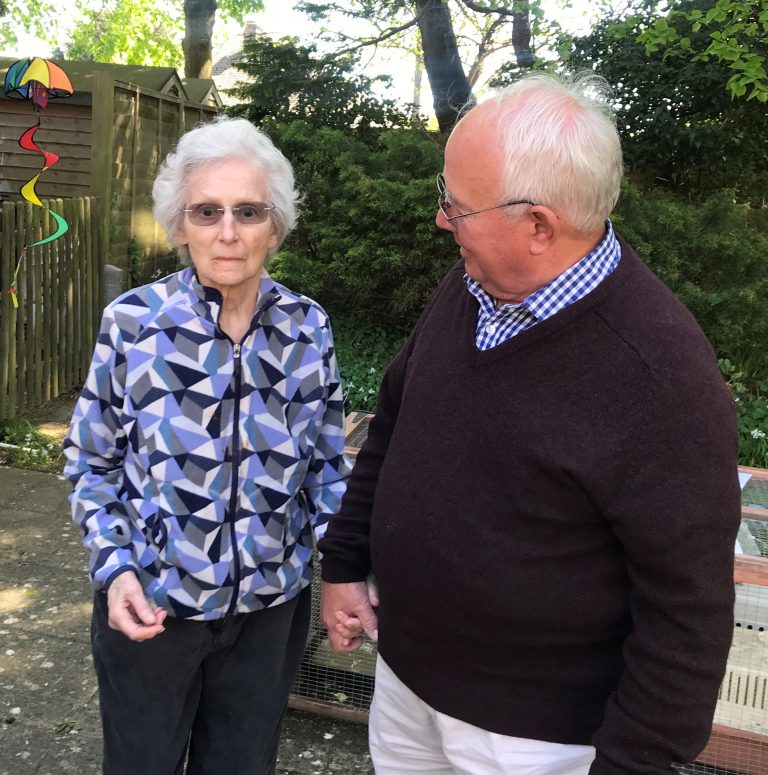 This is the Case Study for Maureen Johnson Written by her Husband Robert Johnson (Nov 2019)
We have had a good life together, we lived in the Midlands where Maureen worked as a nurse, she gave this up to move to Hampshire with me when my job working in irrigation caused me to relocate. Maureen didn't sit on her laurels for long and soon trained as a Chiropodist running runaround in her little car to treat and meet people. She always enjoyed being around people taking part in the local amateur dramatics and singing in the NHS choir, she even sang in Salisbury Cathedral.
The next chapter of our life started 5-6 years ago when I noticed slight changes in Maureen, one significant event told me something was not right with her and she was losing her memory. We always went to church on a Sunday morning but she point blank refused to go but she couldn't tell me why. I knew then I had lost my Maureen and things started to go downhill from there.
I tried and did my best to look after Maureen caring and tending to her every need, but it was becoming too much and about 2.5 years ago I had no option but to get in touch with the Alzheimer's Society, Adult Social Services and my GP for advice. Arrangements were made for her to attend the memory clinic but Maureen was adamant she wouldn't go in when we got there. My GP helped to arrange an assessment at home following a very impersonal letter I received from the memory clinic, annoyed that I couldn't get Maureen out of the car and into the clinic. I understand my GP read them the riot act.
Maureen was diagnosed with Alzheimer 's disease at which point social services helped to find a care at home agency for me and Maureen. They helped with household chores and to support Maureen with her personal care needs, but she wouldn't let them, it became stressful for everyone. I eventually agreed for Maureen to receive respite care in a care home. I looked around several homes but I wasn't sure until the social worker suggested I look around Chestnut Court. All went well and Maureen remained at Chestnut Court following the respite care period ending.
I immediately liked Chestnut Court, it has a home from home feel to it unlike some other homes I looked at which appeared clinical. Becky the manager showed me around and when I told her about Maureen her confidence and reassurance that they would be able to look after her was a relief to me. Becky said "don't worry she'll be alright here with me" and she is.
We have had a few ups and downs with Maureen being unsettled but a change of room where she can see the trees and changing colour of leaves appears to have done the trick and she is more settled. Becky and Lisa the assistant manager are always there to provide advice and emotional support, I feel reassured by them that they will always do their best for Maureen. If there is a something up with Maureen Becky or one of her team will call me and keep me informed.
I visit regularly usually between one and two day intervals. I am always made welcome and greeted pleasantly at the door by staff. We will sit holding hands and take in the views of the garden from the bedroom window. I find the home to have a calm, quiet atmosphere; I believe this is down to the staff who are kind, caring and where nothing is too much trouble for them.
It's been an emotional journey for me and Maureen but I can't thank Becky and her team enough for what they have done for us, I leave the home knowing Maureen is being well cared for.