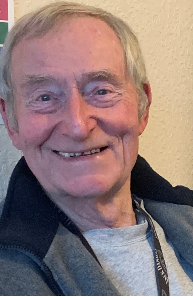 This is the Case study for Mr. Malcolm Wilson written by his son Neil Wilson June 2020
Dads admission to Chestnut Court on the 23rd March 2020 "Lockdown Day" happened very quickly and it was based on trust and trust alone because we hadn't been able to view Chestnut Court prior to dad moving in.  I have to say I need not have worried because dad seems happy and settled.
We saw dad for the first time just a couple of days ago since we dropping him off at the door on the 23rd March, we had  ½ an hour with him in the garden, respecting social distancing.  He looked very well and happy, it was a relief for us to see him looking so well.
It's not easy making the decision for a loved one to go into care and we toiled with it for a long time.  Dads a sociable man and because of this and wanting to take himself off to chat with other people we had no choice but to look into fulltime care for him.
Dad has been retired now for nearly as long as he worked, he took early retirement at the age of 50 from West Hants Water Company where he had worked from the age of 15, starting off as a fitter working up to working in accounts.  I can't be sure but having retired so early could have contributed to dad's dementia, he didn't do a great deal, he didn't have many hobbies or interests and sadly mum passed away 13 years ago and it was about 5 years ago when we started to see a change in him.  18 months ago the decline was easy to see and he needed a package of care to support him at home.  He also attended a day service.
Then Covid-19 came and it became clear the risks to living at home alone with carers coming in now and again  wasn't enough if we were to lessen the risks to his health and safety.  No matter how many times I said he needed to stay in as soon as the carers left he would follow them out the door and take a walk.  He couldn't understand seeing others pass his door still meant he couldn't go out? What it did mean was having regular calls from the police and social services safeguarding teams calling us with their concerns.  Living over 100 miles away meant we were reliant on others helping us.
A care home finder service found Chestnut Court for us and as I said it happened all so quickly, Becky the manager and Lisa the deputy manager came and assessed him and agreed to take him and took him back to Chestnut Court that afternoon.
We have had our minds put at ease the staff are fantastic and I have a lot of confidence in them.  We have a good and open relationship with Becky and Lisa and I know they are looking after dad very well.  He recently suffered a tooth abscess they dealt with it straight away and contacted us after they had sorted it.
Dad was firstly admitted to Chestnut Court for respite until we found something closer to us but he is so settled we have decided he will stay at Chestnut Court permanently.
We are really pleased with how things have turned out for dad and us. I have every confidence in Becky and her team they have proven to be very accommodating and supportive at what was a very difficult time, I couldn't be happier.