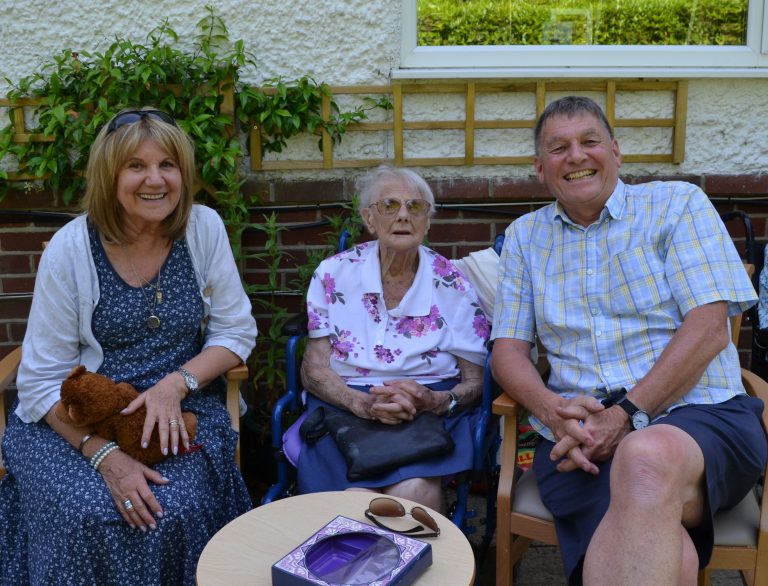 This is the Case study for Mrs Marjorie Rogerson written by her son Brian and Daughter in Law Marianne. (July 2019)
With mum we have been on quite a journey to find the right care home for her to settle into. Mum grew up and lived in Manchester, she was widowed at the age of 43 and when my sister and I fled the nest she was living alone in part of the country which wasn't what it was like when she was younger. In 1983 mum moved to Norfolk to live closer to my sister and enjoyed taking part in looking after her grandchildren. We have a grandson now and she loves seeing him and spending time with him too.
Previous to moving into Springkell House mum had experienced living in two residential homes in Norfolk. We could see mum was becoming frail and suffered a series of falls at home, the last fall resulting in a fractured hip and a month in hospital. The intention was for mum to go home with increased level of support from home carers and a very good friend who was her cleaner also. The consultant was optimistic and felt with increased care at home mum would be ok, but whilst the consultant was on holiday the decision was overruled by other Health Care Professionals and Social Services that mum would need to go into a home.
It was a difficult time for all of us; Social Services were very keen for us to look at a newly built care home built on the grounds of an old hospital located near mum. It all happened quite quick but we went and had a look at the home as it came highly recommended by Social Services. We were living in St Ives at the time so it was quite a journey and we were running late to meet the manager. The manager stayed onto meet us and after introducing herself proceeded to ask about mums end of life care, it took us aback we weren't expecting that type of conversation on our first meeting, it felt really inappropriate. We knew it wasn't right for mum.
Mum is currently able to finance her own care but we come from a humble background and the home we were looking for had to be just right for her. We eventually found a care home near my sister, all appeared ok at first but then my sister became concerned. It was little things such as her hearing aids were not put in, the sore on her leg was getting worse rather than better and we noticed there didn't appear to be any kindness from the staff. It was distressing and upsetting for all of us.
By this time we had moved to Greyshott and decided to see if there was anywhere local that could meet mums needs. We knew what we were looking for and we did our homework, including looking at CQC reports. We looked at several other homes and some were very nice but not quite right for mum and sadly it seemed they were only interested in what mum could pay and for how long. Springkell House came highly recommended by the local community and we even spoke to a retired GP who knows Karen the manager and Springkell House. He said we couldn't do better, Karen is a lovely lady and house is very nice. Mum appeared happy to move and have an opportunity to meet and see her Great Grandson, she said to us she would quite like that!
We didn't make an appointment to visit Springkell House we just popped in, we were immediately made to feel welcome, offered a drink and shown around the home. There was a buzz in the home, activity and smiley friendly staff.
We liked it that they were ready to accept mum, we were asked what her favorite colour is and her room has been painted in that colour, her room was clean and fresh with newly fitted curtains, carpets and soft furnishings and some lovely little touches such as a vase of flowers. It was like they were expecting a guest.
Mum has only been here since June 2019 and we are amazed as to how well she has settled, she loves her room, the staff and the garden. She always looks smartly dressed and has her hearing aids are always in, we know mum can be stubborn and resistant at times but she always looks nice. Where mum lived before she would stay in her room but now she often asks to come downstairs, she's a people watcher and likes to know what is going on, and there is always something going on!
Recently the home held a Strawberry Tea Party and on another occasion they held a National Cup Cake Day in aid of the Alzheimer's Society.
Mum really likes all the staff, they are brilliant, we are always made to feel welcome and offered tea and cake when we visit. Karen the manager is honest and open with us, which we like and the team they show kindness, warmth and empathy.
To sum Springkell House up it's a happy home full of life.