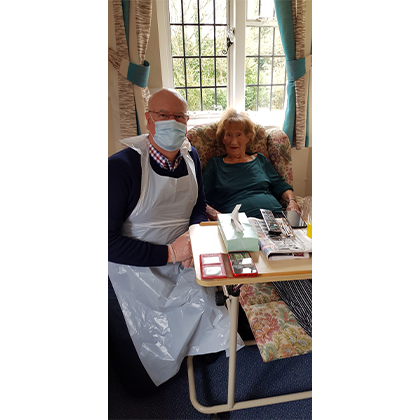 This is the Case study for Phyllis Paine written by her Husband John Paine
" Phyllis sharing a wonderful Spring Day in Robertson Nursing Homes garden with son John and Granddaughter Georgia"
Prior to mum becoming unwell and frail and needing to go into a nursing home she was very active, she was a fun mum, and played golf into her late 80's, enjoyed the company of others and in her working days worked at the College of Law in Guildford.   Mum wasn't one to allow her age and health to get in the way of her activities and was determined to remain mobile and to avoid aging.
Sadly age does catch up with us and in 2020 she required a heart valve replacement, a second valve replacement was needed however due to the complexity of the procedure the risks were deemed too high. Water retention a sign of heart failure affected her mobility and she started to have several falls.  After a spell in hospital at the start of 2021 she was discharged and eve n though care workers were assigned to her, it was insufficient for her needs which became apparent after having two falls at night over two days. After the second fall I became concerned for mums safely and I broached the subject of going into care. It was a hard decision to make but one that could not be avoided.
I can't thank Penny and the team enough at Robertson Nursing Home for accommodating mum at very short notice, it felt like I was on a roller coaster at this time. Mum has been in Robertson's for a couple of months however her health continued to decline, however I felt she was safe and being well looked after. Penny and her team are really very nice, and are providing very good care for my mum and doing a fantastic job.
Mum has good and bad days, when she is having a good day arrangements will be made for me to visit.  Due to the risk of the Coronavirus still being present we are currently limited to how often we can visit and coupled with visiting mum on a good day means the home is being very accommodating.  The weather is getting better so we hope to get mum in the garden soon where she will be able to have more visitors.
Mum is receiving excellent nursing care, they keep me informed and I have had several conversations with the Homes nurse who has worked with me and mum to ensure she continues to have a good quality of life.  Over the last couple of weeks, with the support of the local GP and Home nurse, changes have been made to mums' medication. This has provided significant improvements and as a result the physiotherapist is now working with mum to assist with her mobility, which in turn will encourage her to socialise a little more.  Mums not keen on all the activities with the exception of Bingo where she has won twice, and visits from staff for a good natter.
Penny and her team have been fantastic and so reliable, I receive weekly updates about everything Covid-19 and more, I couldn't ask for more.
I would recommend Robertson Nursing Home because Penny and her team are very caring, sharing and proactive in providing very good care for our elders.