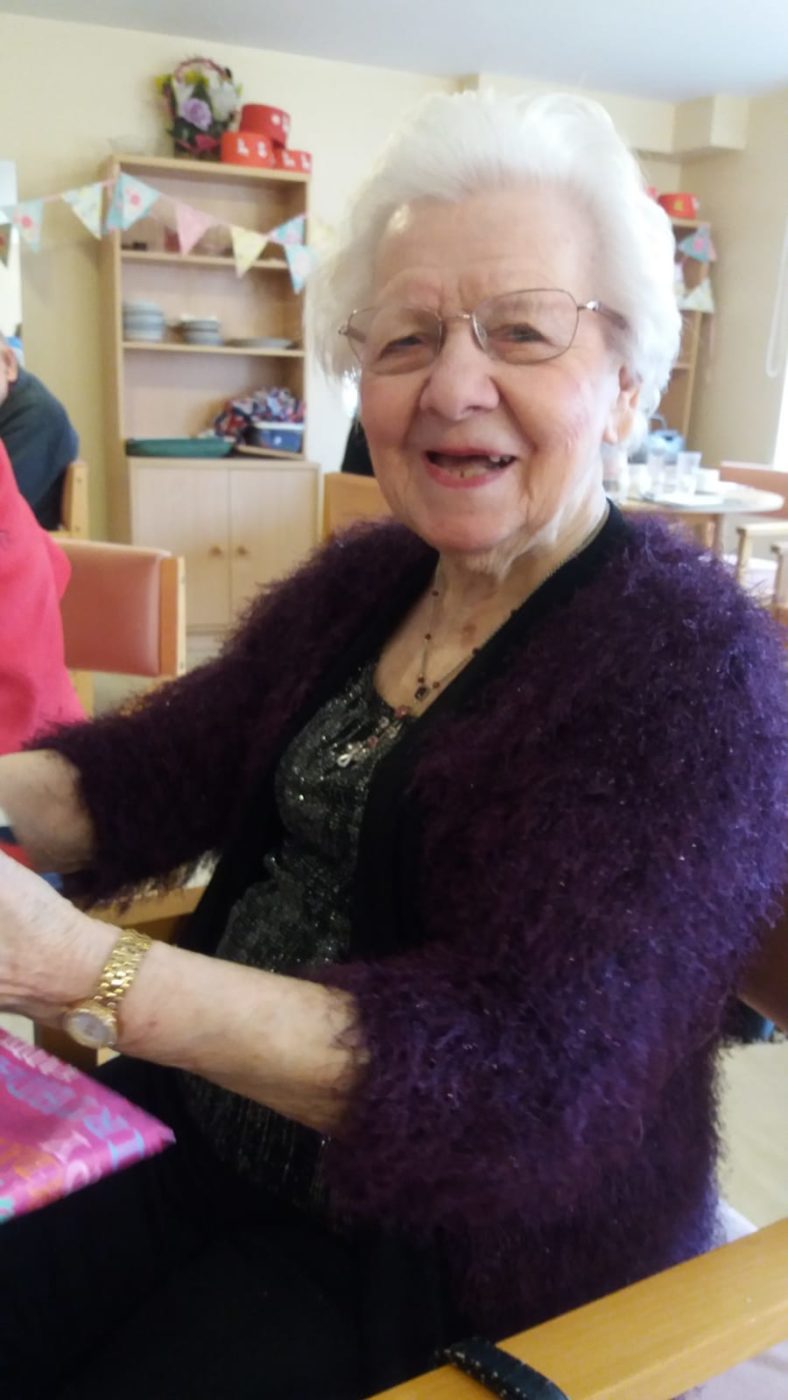 This is the Case study for Rosaline Witts
This is the case study for Rosaline Witts known as Rose written by her Neice Vivian (April 2021)
Since my auntie Rose moved into Chestnut Court Care Home on the 9th March 2021 I have seen a significant difference in her.  She has settled better than I could have imagined, she is not so anxious, she looks much tidier and I understand from staff she is eating very well.  I couldn't be more pleased we definitely made the right choice with Chestnut Court.
Prior to moving to Chestnut Court Auntie Rose was living in assisted living accommodation, her increased confusion and advancing dementia meant at times her needs were not being met and her wellbeing was being affected.
I have to admit to being very taken aback when I saw Auntie Rose for the first time following my return from Spain and not seeing her for approximately 10 years, she wasn't the Auntie Rose I used to know.  My mum was the eldest of 11 children, I loved it when I was little and we had family gatherings.  All my aunties would arrive and there would be so much laughter and joy and Rose would be the center of this, she was quite a character, the life and soul of the party and very outgoing.  Occasionally she could be a bit rude and the wrong words would slip out but I was mesmerized by her and her sisters.  I really enjoyed watching them put their makeup, Auntie Rose would always put too much lippy and rouge on getting into trouble with her mum who would insist she remove it. Auntie Rose maybe tiny but she has a huge personality.
During a recent visit to Chestnut Court with another auntie, we had a little giggle as Rose had applied some makeup; it was great to see her happy and it brought back such fond memories.
We haven't been able to go directly into Chestnut Court just yet due to the restrictions, but I have looked through the window of her bedroom and can see her room is comfortable and dressed with the things she likes.  The garden is a good size and secure, it will be lovely in the summer to spend time in the garden with Auntie.  We have been able to visit in a designated area of the home and it's wonderful we can now hold hands.  It was great to see Auntie Rose recently especially as she recognised her sister Ellen and called her by name.  I visit every week and she knows that I am her niece and she knows my name but on this occasion she thought I was her mum, but that's ok because I recognise this is the condition she is living with.
The Covid-19 restrictions have stopped us doing a lot of things but I had no worries about Auntie Rose moving into Chestnut Court, it all went smoothly and Becky and her team have been great.  I can see she is getting good care and I have observed how staff interact with her, they are so kind and caring.  It appears she has taken with the staff especially Marcello.
I understand the home has very good links with a local school and before Covid-19 struck the children would visit the home monthly spending time with the residents chatting and completing activities.  Auntie Rose will love this, she loves children, sadly she was unable to have any of her own, and she did take on the role as second mum to a number of my cousins, spending a great time together.
I can't fault the staff and the home, the home looks clean, tidy and homely.  My mum who sadly passed away 25 years ago spent her last days in a top class luxury care home but the care was poor.  Chestnut Court may not have a luxurious environment but it gives first class care.
The family entrusted me to find a suitable care home for Auntie Rose who could meet her needs and give her the care she deserves, they feel I have done this in finding Chestnut Court.