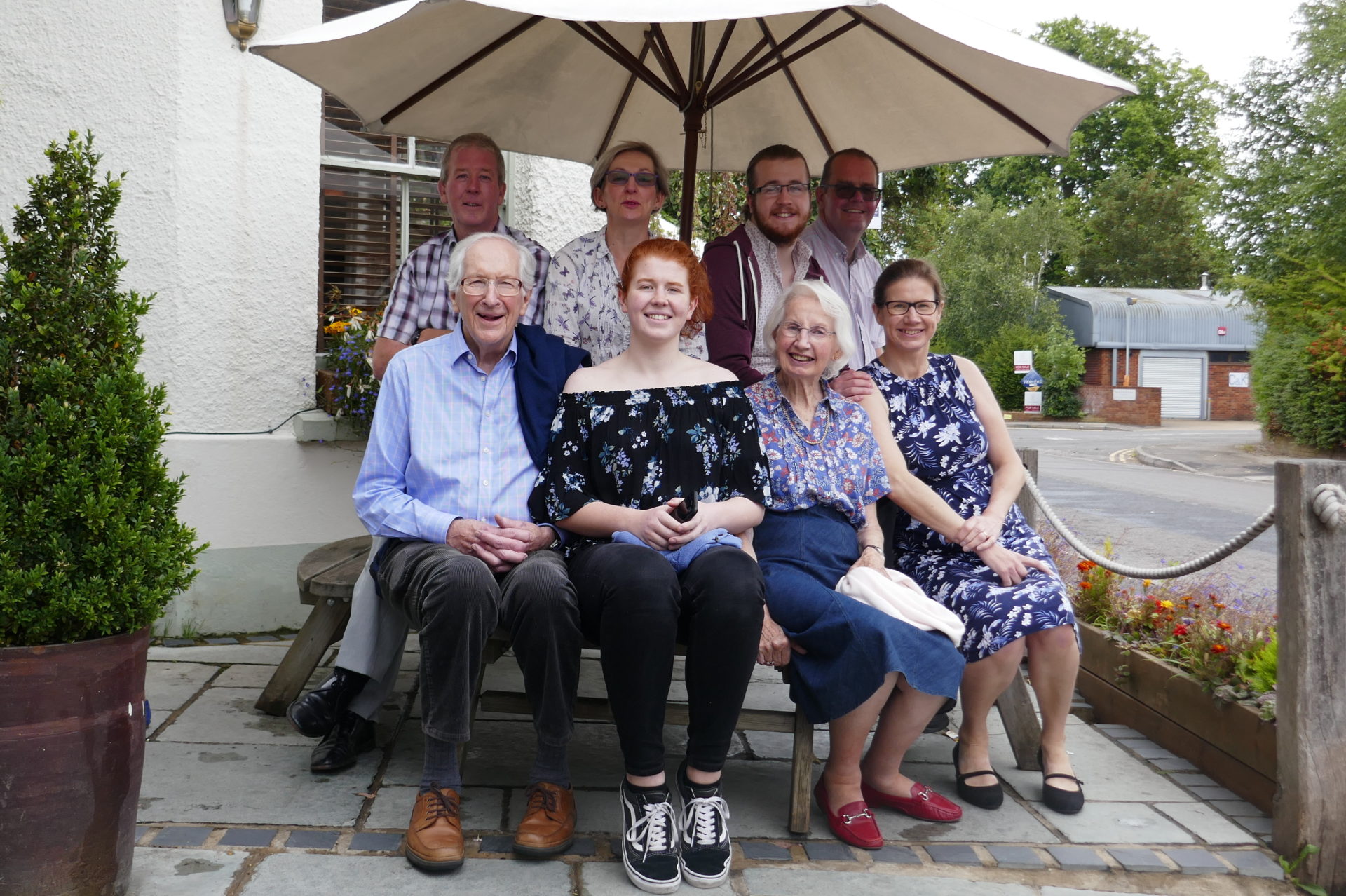 This is the Case study for Susan Clutsom
(Picture above is Celebrating Susan's Granddaughter's 18th Birthday)
This is the Case Study for Susan Clutsom written by her Daughter Lucy Hay
Mum has only been in Ashton Manor Nursing Home since September 2020 and, because she had no choice, she struggled a little to accept the move, but she is doing very well.
Prior to moving into Ashton Manor, she had spent time in hospital, following a fall and breaking her hip in April 2020. There were a number of complications after the operation, and we weren't sure if Mum was going to pull through.  Thankfully she did and we feel as if we have come out the other side now.
Mum and Dad had previously lived in an Active Retirement Community for 4 years where meals were provided and many interesting activities took place.  Communal areas enabled them to meet with other residents daily, if they wished.
Sadly, Dad passed away earlier in the year and, because Mum now needed somewhere where her physical and health needs could be met, we had no option but to consider the move to a nursing home.  It was not possible for her to return to where she had lived before because of her lack of mobility.  It was a very emotional time for us having lost Dad, nearly losing Mum, and then needing to find the right place for her to move into.
We researched many nursing homes in the area but happened to know someone whose husband was at Ashton Manor and spoke highly of it.  We looked long and hard at other nursing homes but, from their descriptions and a few virtual tours, we didn't feel Mum would be happy in them.  Some were too modern with hard flooring, and we knew that commercial-looking homes were not for Mum.
Ashton Manor had something different to offer, smaller, warmer and comfortable; she especially likes the conservatory.  We were taken on a virtual tour carried out by an amazing member of staff who couldn't have been more helpful.   We also drove past the outside and, whilst we could not see into the home, we liked to look of it.
Whilst Mum's room is a little on the small side, it was the activities that sold it for us, and the history of the building having, at one time, been the residence of the Bishop of Winchester.
Ashton Manor has taken every care to keep their residents and staff as safe as possible during Covid and, because of the restrictions, we haven't been able to Mum's room yet, but have been able to visit her in the garden, and also in a dedicated room in the home. Mum tells us the food is really good, she especially likes the cakes and the smaller portions offered.
She has a sharp mind enjoying quizzes and chatting with others, as well as reading and doing her word puzzles.  She has made friends with other residents, and always speaks highly of all the staff.
We feel that she is settling in at Ashton Manor, and that this is in a very great part due to the wonderful staff who look after her and the cosy feel of the home.