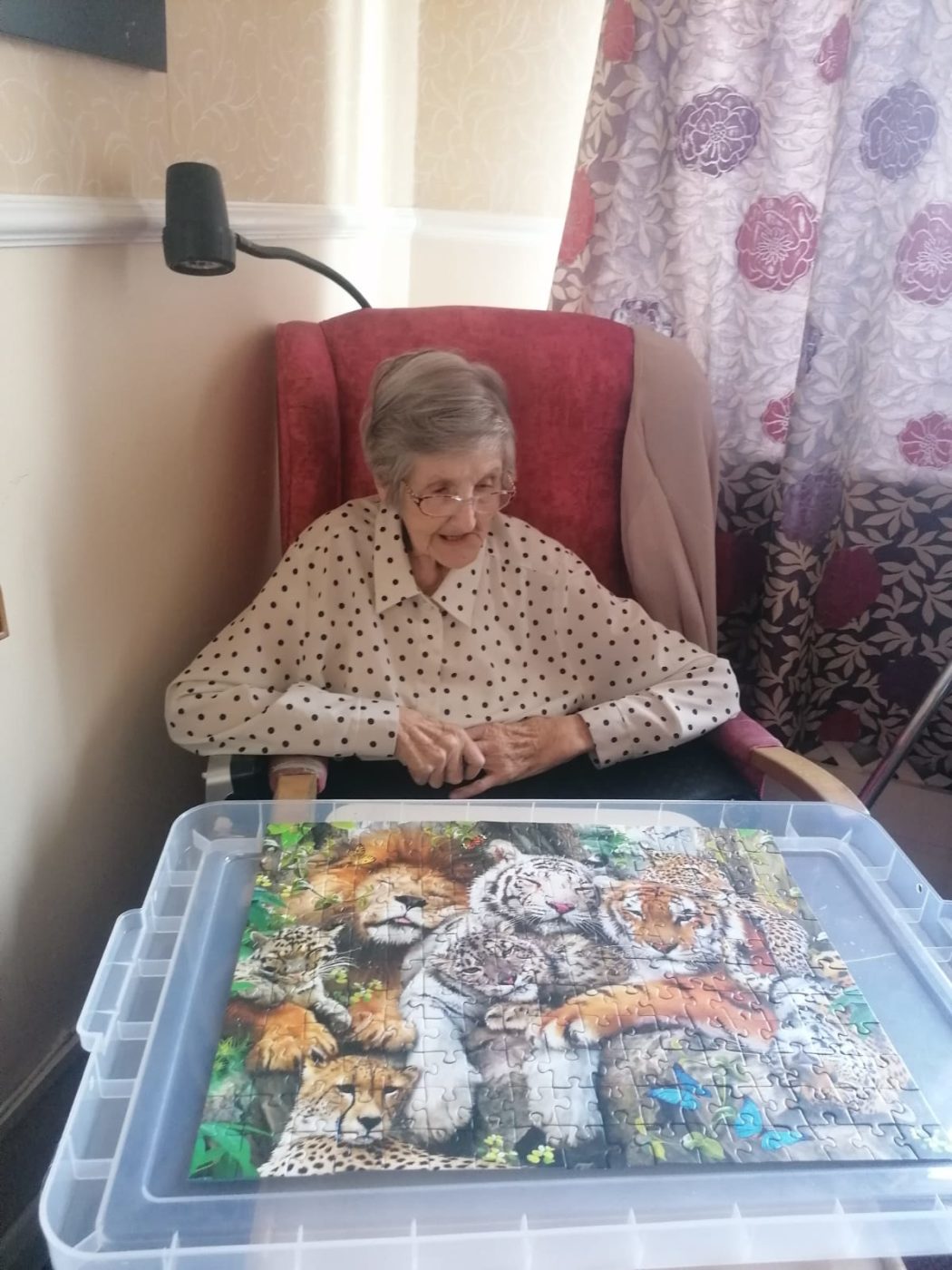 This is the case study for Yvonne Klarkowski written by her Daughter Nicola
This is the case study for Yvonne Klarkowski written by her Daughter Nicola May 2021
We could not be happier with the care my Mum receives at Robertson Nursing Home, she is very fortunate to be there.  The staff are very caring and considerate towards the residents and are always so welcoming and friendly towards visitors – each time you visit you are greeted as a favourite family member.
At the age of 93 Mum was living independently near Chichester, West Sussex. She managed her daily life, grudgingly accepting help with shopping and gardening but enjoying trips out and visits to cafes.  Whilst approaching the hairdressers one day in early November 2016 she fell and broke her hip. She had to endure four operations in as many weeks and, although she returned home for a few days, she hated having carers visit.
Having lost her husband (my Dad) the previous year and suffered the trauma of her hip, she seemed to 'give up' and we decided she needed be closer to us so we could support her better. She moved into Robertson Nursing Home on 22nd December 2016 (initially for respite care only) but, four and half years later, she is still there.
It was a difficult time in December 2016 trying to find the right nursing home for mum to move into, but it was really important for us to get it right.  I looked at many homes but the larger newer ones did not provide the more homely environment I knew Mum would prefer.  It was recommendations from friends who knew of Robertson's Nursing Home that put me in touch with the home, it certainly lived up to its reputation from the very first approach.  The quirky character and the warm welcome I received meant I was confident that Mum would settle there.  Furthermore, Robertson's was fairly local to my family which made it easy for us to visit 5-6 times per week.
It was certainly not an easy transition for Mum and she hated being there at first, becoming very depressed. She quickly recognized that the only form of control she retained was how much she ate, and she lost a great deal of weight. Fortunately, the home has a wonderful head chef – Sharon – who spent much time with Mum patiently encouraging her to enjoy eating again.  The home has a dedicated physiotherapist who has supported mum to get back on her feet and remain mobile, although she does prefer to use a wheelchair.
Mum is not too keen on mixing much with other residents although she will join in with some of the activities, especially those at Christmas. Generally, she prefers to stay in her bright and sunny room, and its location means that she gets to see staff and others who regularly pass by her door and pop in for a chat.  Whilst she no longer follows the 'soaps' in the way she once did, she does appreciate the TV as 'company'. She has a daily newspaper and is still enthusiastic about attempting the easier quizzes and crosswords. One of her favourite activities is to work on a jigsaw puzzle.
My family and I have the greatest admiration for how the challenges of the pandemic have been handled during the past year at Robertson's, taking the pressure and worry from us. The weekly updates via email, newsletters and photographs have kept us informed and were very helpful in reassuring us all was well.
All the Robertson staff are worthy of the highest praise but Penny (the manager) must be singled out as an extraordinary person. The open honest culture created by her is genuine and embraced by all – every one matters.