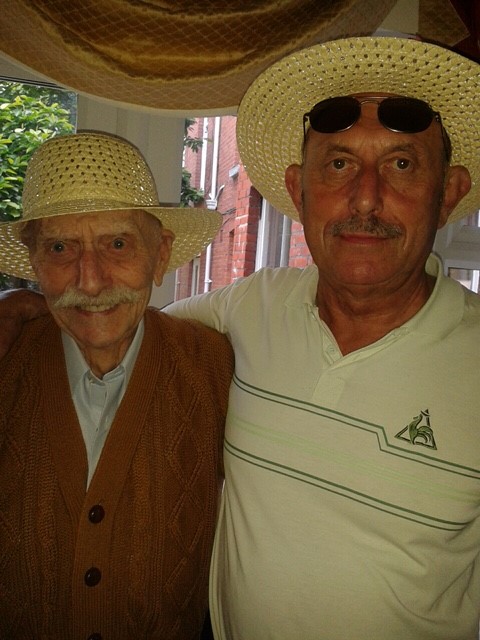 This is the Case study of Albert Arnold known as Bill written by his Son Mike Arnold September 20
Hi, I'm Mike and as a relative I had a long connection with Windsor Court, even before Beritaz Care took over the management and running of the home in 2016. So, when I was asked if I could share my journey with my Dad, Bill, I was more than happy to oblige. Both my wife's parents spent time living at Windsor Court so I knew the home and the standard of care by the wonderful staff who worked there. Some staff still work there and it was a pleasure to meet them again when Dad needed to move in. Sandra, who still works there, was usually the first person to greet you and
she was always warm and friendly towards visitors. That first impression can be very important. Beritaz Care stepped in at the 11th hour to take over the running of the home in 2016.
It was a very unsettling time especially as there was a possibility that Dad might have to move to another home. The environment has improved significantly, the standard of care and the kindness of the staff are of a high standard. The food is very good and there is always something interesting being organised by the activity team. Dad was a very sociable person and loved to get involved.
Dad, sadly, is no longer with us, living to the ripe old age of 97. He passed away in 2019 but I continued to visit the home to see the staff and residents with whom I had developed friendships. Sadly the visits had to stop for obvious reasons in February, 2020, when the home locked down early to minimise the risk of Covid-19 entering the home. I am aware that the
management and staff have managed to keep everyone safe and the virus out of the home.
I never thought Dad would need to go into care but following Mum's passing in 2010 our journey started. Dad struggled to cope after Mum passed away but wanted to keep his independence. We managed to get him into a warden controlled flat in Poole where he spent several happy years. Unfortunately he started to experience complications with his health which required him to go into hospital. Because of the nature of his illness we saw him ferried between Poole and Bournemouth hospitals on several occasions and this took its toll on his physical and mental wellbeing. Whilst the staff were brilliant with Dad we couldn't help but feel that they wanted him out of hospital as soon as possible. I wanted to take him home with me but I was advised that I would not be able to care for him properly. At this point we started to look for a suitable care home. It was a traumatic time for us. It was important for us to find the right home so Dad could live as normal a life as possible, for as long as possible.
We were lucky enough to know of Windsor Court and Dad moved in at the age of 92. We didn't think he would live very long, the hospital suggested so, but he remained at Windsor Court for over 5 years. Sandra and the manager at the time, Jamie, couldn't have been more helpful in welcoming Dad. They helped us understand the care home system and
provided information on the role of Social Services and the financial implications when Dad was diagnosed with dementia. Jamie helped me to understand what was happening and how I should respond and behave with Dad when I visited. I have attended some helpful information sessions on dementia put on for family and friends at Windsor Court. They helped me to understand Dad, his condition, and how to get the best out of my visits with him and others living in the home. Thankfully Dad was always happy in his own little world.
Beritaz Care have made a big difference to the home, not only with the improvements which have been carried out to a high standard, but also careful consideration has been given to the resident's needs. It is now managed and staffed very well and a considerable hardcore of staff have been there for a long time. I miss Dad terribly. However my memories of his last few years spent at Windsor Court are happy ones. This is in no small way due to the care and compassion shown to us both by the marvellous people who work there. I would certainly recommend Windsor Court care home.
Dad was happy and safe and treated with the utmost respect. It provides a homely, friendly atmosphere where the residents and the relatives really matter.