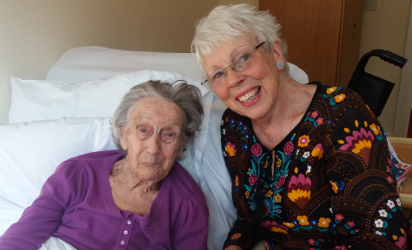 This is the Case study of Hilda Oliver written by Her Son and daughter in law. (June 2019)
Mum has been at Windsor Court Care Home since the 1st March 2019. Our journey to find a residential care home for mum followed a serious fall that required her to be admitted to hospital. We had known for a while mum was becoming more forgetful and a danger to herself. We had been trying for approximately 3 years to get support from various professionals to agree with our concerns, but she was very clever and plausible telling them she cooked for herself every day, food such as Duck a l'orange and walked to Bournemouth and back every day. They would tell us she wasn't quite ready to move into residential care.
It was becoming a real concern for us especially her safety, she managed to burn out 3 microwaves and a toaster in a month and started falling, the fire crews and ambulance service were not happy. We would get calls from "Care-line" that mum was disturbing the neighbour's; we knew it was because of her memory.
Mum was an outgoing, sociable and friendly person and came from a large family; she was the eldest of 7 siblings, 6 sisters and 1 brother. As the eldest she was put to work at an early age looking after her siblings, she worked in a large mansion house for nurses and patients and large family homes cooking and gardening for them. She even set up her own B&B at one time. I believe this is where her love for cooking and gardening came from.
Mum was very much involved in her local community and charities such as McMillian and the Red Cross, she was involved with the Woman's Royal Voluntary Service (WRVS) and cooked for 100's of people at a time, she loved it. She was also a champion scrabble player and both mum and dad were champion Bowls players.
After dad passed away and they moved to Bournemouth, all the activity she was involved in stopped and mum seemed to change, isolating herself and refusing to engage with others.
We were quietly relieved when we were told by the Social Worker in the hospital that it wasn't safe for mum to return home. We were provided with a list of homes and a very nice book with all the homes in the area. We saw a few homes before coming to Windsor Court, they were nice but we weren't overly impressed with the chandeliers and cuisine and some homes were not welcoming with unpleasant smells and staff who didn't interact with the residents.
We immediately felt different when we walked into Windsor Court; we were met by and shown around by Sue (Senior Support Worker). It couldn't have been more different from what we had previously seen, the staff were very welcoming, there was such warmth, very friendly and we were offered a cup of tea.
We were shown two rooms and whilst one was larger than the other the smaller room had patio doors to the garden, we fell in love with it straight away, it ticked all the boxes, and we knew it would be right for mum. Mum loves reading and I know there is going to be a dedicated library, she will love that. Mum loves the food here and we are amazed at how staff have managed to get her involved in activities, she really enjoys flower arranging, anything to do with the garden and has been involved with baking. This is a turnaround from isolating herself when she was in sheltered housing.
We are kept involved and informed if there is anything up with mum. We recently attended a nutrition awareness discussion with other relatives and have been invited to other such events and activities, we feel part of the home.
Whilst looking for the right home for mum we had to factor in the cost and were pleasantly surprised at the weekly rate at Windsor Court compared to some other services which were double and in some cases treble the amount.
We can see mum is settled, happy and is joining in more, even if she tells us she isn't. We are very pleased with Windsor Court we can't fault it.