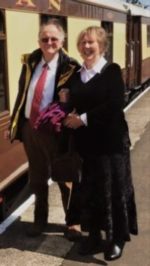 Ashton Manor Nursing Home is a very caring, friendly and clean home and I am very happy to have found it
This the Case study for Diane Harris written by her Partner Mr Kevin Chesson's (March 2020)
Diane retired from full time work in 2014 when she was 64; she worked as a sales progressor in an estate agent and was highly respected by her colleagues.  She was always busy, hardworking and loved tending to our garden.
I started to see changes in Diane's memory and character towards the end of 2014, early 2015 and at the age of 69 years she was diagnosed by her GP has having Alzheimer's.  From this point on there was a gradual deterioration especially in Diane's mood and at times she would get angry, I can only assume this was because she was frustrated with not being able to do the things she used to do.
We would still go out for days out in the country, which Diane really enjoyed but I found more and more I needed extra support.  This progressed to 1 day a week respite day care at a local care home, I also trialed a week of respite for Diane so I could recharge my batteries but was very disappointed with the standard of care Diane received there.
In searching for alternative homes that would provide day and respite care I came across Springkell House sister home to Ashton Manor, I was assured from reports I saw and heard it provided very good care for people with Alzheimer's.   Springkell House provided very good care for Diane but it's a residential home not a nursing home.
In August 2019 Diane took a turn for the worse, she became unsteady on her feet and had several falls which led to her being admitted to hospital for some checks. I made provisions at home to keep Diane as safe as possible when she was discharged from hospital including making a bedroom downstairs, unfortunately her very first night back she rolled out of bed and had to go back into hospital.  Diane lost her mobility and lost her ability to feed herself. I knew then no matter how I changed things at home I couldn't make it work and Diane would need extra care.
I started looking on line at Adult Social Care Services but already knew of Springkell House and Beritaz Care and looked at the other homes in the group.  I was assured because of the standard of care provided by Springkell House Ashton Manor would be the same and they are reasonably priced.
I visited Ashton Manor and was immediately taken in by the homely atmosphere, the cleanliness, attention to detail and the kind, welcoming greeting I got from all the staff I saw.
Diane's son visited the home and he agreed Ashton Manor was the best place for his mum.
Diane's transition into the home was smooth and she is very settled, she is unable to hold a conversation but I am so pleased that the staff support her to get up daily and go to the lounge where she watches what's going on.  On good days she loves to go into the well-kept garden and watch the gardener tending to the garden.
There is always plenty of staff on duty, the home doesn't smell unpleasant and importantly for me and Diane she is wearing her own clothes.  It may seem trivial but I have never had to complain about her clothes going missing. This says to me the home has good systems in place for making sure Diane is cared for as an individual in her own right.
Contact with the home is very good, I am informed if there is a concern or Diane is unwell.  Carla the manager holds regular relatives meetings and as a frequent visitor to the home I feel very included.
Ashton Manor Nursing Home is a very caring, friendly and clean home and I am very happy to have found it for Diane.