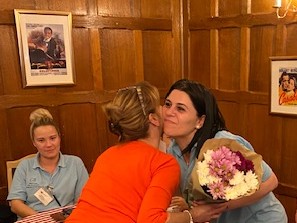 1 year Anniversary of Alina in Robertson Nursing Home
Hello, my name is Alina, I arrived exactly one year ago destined to work in care at Robertson Nursing Home.
Today I was pleasantly surprised by the gesture made by Penny the manager when at the beginning of the shift and during handover she presented me with a bottle of wine and a beautiful bouquet of flowers. It was to celebrate, give recognition and thank me for the work I have done in the last year in the home.
This year has been a good year for me, full of new and useful experiences and lessons learned. .Thank you for opening my doors for a better future here in the U.K.