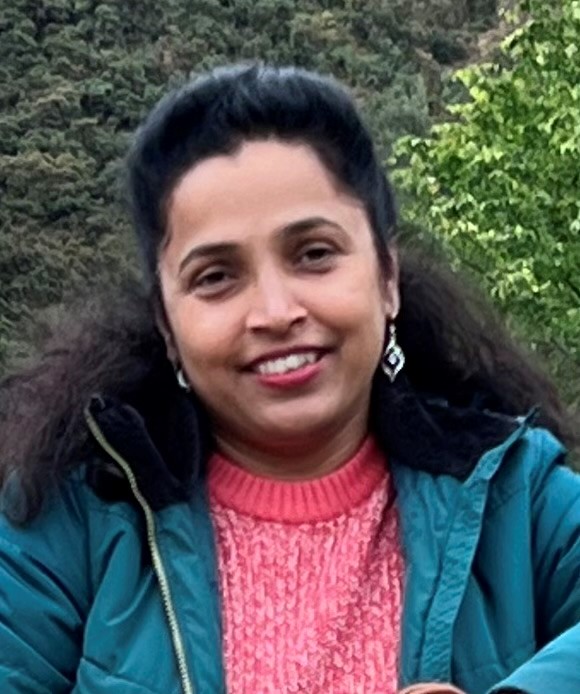 Sheena Paul – Bank Registered Nurse
"Working here doesn't feel like working for a company, but for your family."
Hi, I'm Sheena and I joined the team at Ashton Manor back in 2010, I now work as a Bank Registered Nurse at the home. I previously worked in nursing roles in hospitals in India and Saudi Arabia, working at Ashton Manor was my first employment upon moving to the UK and I have remained here ever since.
I came to the UK to complete a nursing programme and needed a sponsor in order to come over and work here. Kumar Gnanakumar (Beritaz Care CEO) was kind enough to sponsor me to work in the UK. I didn't know too much about how care homes worked or what kind of job it was, as care homes are not very common in India. I had planned to move on and get a job in a hospital after a couple of years, but not long after I started at Ashton Manor it already felt like a family and I didn't want to leave.
My job as Clinical Lead involves guiding and supporting the care staff and nurses, as well as helping them on the floor. I also offer support to the residents and their families. My role is less about physical support of the residents, and more focused around psychological support and emotional support. The residents know they are well looked after and we are here for them, we want to make sure they are happy here and happy with their care.
I really enjoy being around the residents every day, and of course my colleagues, they are really amazing. I have never felt coming to work that there are people here I didn't want to work with, we all support each other and get on well. There are many different cultures represented in the team, but everyone accepts each other and respects each other's ideas and cultures.
Beritaz Care counts all staff as their family members, working here doesn't feel like working for a company but for your family. They care about your home life not just your work life and there is always support available from managers like Kumar. The Beritaz management team are approachable and I feel comfortable talking to them. They encourage us to go to them with suggestions and concerns, no matter what it is about. I have never experienced that in any other company, where the managers actually care about what you think.
My favourite memories of my time here at Ashton Manor have to be all of the parties! Over the last few years with COVID these happened less but it's been nice to start that again recently. I also have fond memories of my fellow team members. When my mum passed away soon after I started working at the home, even though the staff didn't know me very well and I was quite new, they still made an effort to be nice and check on me. One of the team made a special effort to offer her support as she knew I was struggling at that time, that really meant a lot. We all really care about each other in all aspects of life, we are not just colleagues.
Beritaz Care as a company is great for providing training for its staff, I don't think most other companies provide this much training, particularly face-to-face which for me is better. At Ashton Manor I am encouraged to develop my abilities. Many staff started as care assistants and progress to team leader roles, they really want their staff to develop. I started as a nurse and then trained as a Clinical Lead, I was encouraged and supported to progress to a senior position.
I would encourage anyone to join us here at Ashton Manor, as they will enjoy working with us and with Beritaz Care, no company can replace Beritaz.