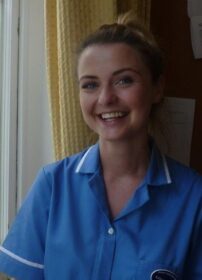 This is a staff story written by Katherine Felton: (June 2020)
Hi I am Katherine and I am the Support Manager of Windsor Court Care Home
I have been working at Windsor Court since 2016, starting as a Senior Carer Assistant but later that year progressing to the Support Manager to Lesley the Registered Manager.   There are great opportunities for career progression and I am being encouraged to undertake my Diploma level 5 later this year.
Just as I started at Windsor Court Beritaz Care took over the running of the home, in this time there have been some significant changes to the environment making it not only a pleasant place for the residents to live but a great working environment for the staff.
My previous work experience was working with adults with Learning Disabilities as a support worker, I enjoyed this but when I found myself in a position looking after my nan through the end of her life I was inspired to go back to working with the elderly.  I am passionate about end of life care especially making sure the emotional side of this journey is very special for everyone concerned and involved.  It's really important to me and the team to ensure people receive the best possible care and the upmost dignity when they pass.
As the support manager my key roles include working alongside residents to develop person centred care plans, support, supervisions and train staff especially in the use of our electronic care planning system.  I support the senior carers and sometimes will cover as a senior when required which allows me to stay connected to everyday events but know how to support them. I carry out pre assessments for perspective residents which I really enjoy and in Lesley's absence I will cover the running of the home and provide on call support.
I really enjoy working at Windsor Court, I work with a great team where everyone helps each other out, there is very good communication and we are just like one big family. The training provided is very, very good and I receive great support from my manager Lesley.
Our values base recruitment process and the supportive induction period we provide allows us to introduce new to care Health Care Assistants. This allows us to ensure our values of Caring, Trusting and Choices and Person Centred Care approach are followed through with every new member of staff, something I am very proud to be part of.
Mr Kumar the owner is hands on and is always there when you need him.