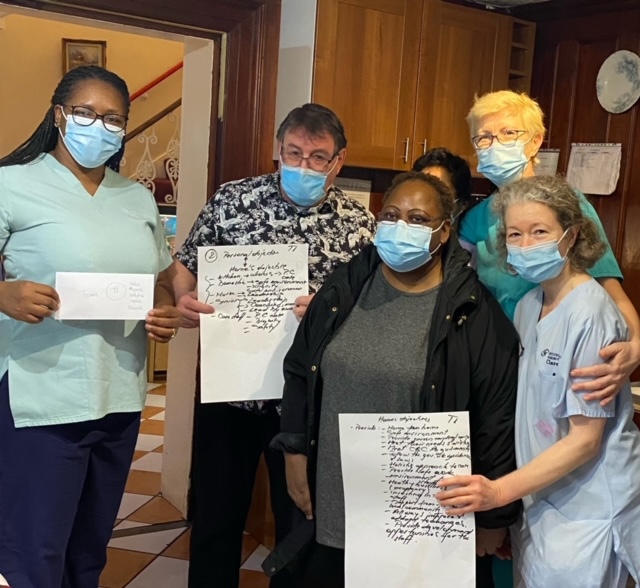 Winning team! Exercise was to identify how our personal objectives contributes to the home's overall objectives. We carried out the above workshop during our staff meeting. Our staff showed good understanding of our vision and objectives.
We strive to achieve the following objectives:
1. To deliver a service of the highest quality in a homely, friendly, professional environment that will improve and sustain the service users overall quality of life.
2, To ensure that the care is Person Centred and delivered attentively and in a non
discriminatory way, whilst respecting each service users right to independence , privacy, dignity, fulfilment and the right to make informed choices and to take risks.
3. To ensure that each service users' needs are met and values are respected in matters of religion culture, race or ethnic origin, sexuality and sexual orientation, political affiliation, marital status, parenthood and disabilities or impairments.
4. To ensure that the care service in whole is delivered in accordance with the Statement of Terms and Conditions agreed at the point of entering the home.
5. To manage and implement a formal programme of staff planning, selection recruitment, training and personal development to enable service users care needs to be met.
6.To manage the care service efficiently and effectively to make best use of our resources and to maximise value for money for the service user.
7.To ensure that all service users receive written information on the homes procedures for handling complaints, concerns, compliments, any other comments,
and how to use it.
8. To ensure that all service users and their relatives actively participate in customizing their care experience, according to their personal preferences, where appropriate.
9. To ensure that our service users are provided in a person centred way to achieve
tangible outcomes.