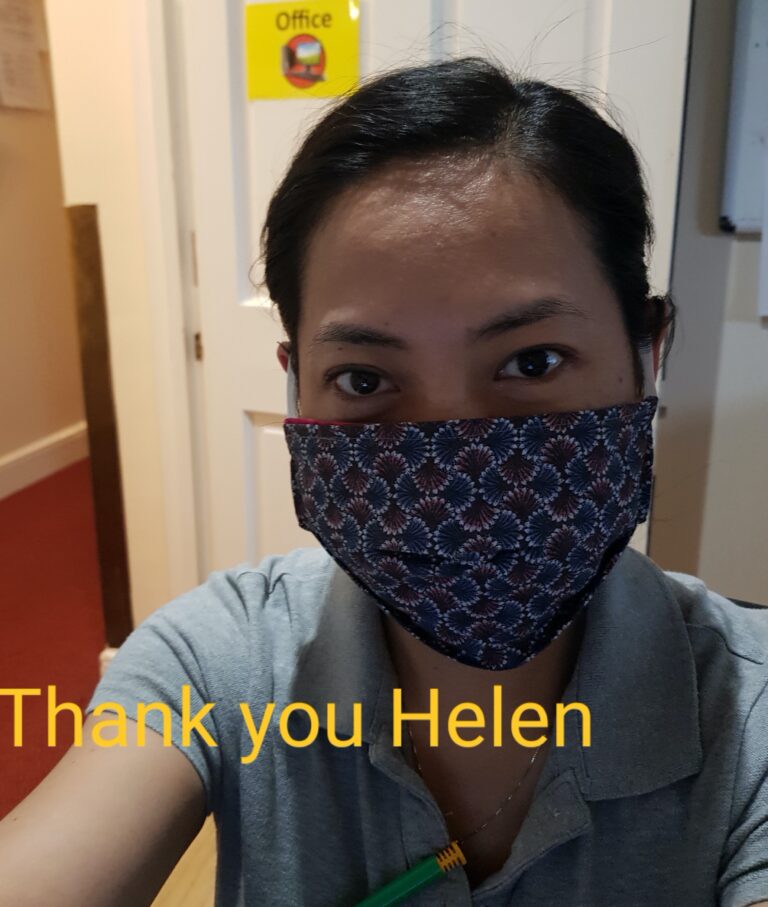 Helen Deighan lives in Grayshott with her husband, a professional jazz musician.  She has two children, Emma who also lives in Grayshott with her little Jack Russel called Jack, and her son Ben who lives in Australia with his family.
Having always been interested in sewing and fabric, Helen took textiles as her main subject while studying at a College of Education in Derbyshire.  Since then, Helen developed her own textile and dyeing techniques, wrote several books as well as gained recognition from peers in the UK industry.  Having won many awards, Helen has also had her textile art and articles published in international publications.  Helen taught for over 40 years and in 2002 she was able to teach dyeing and sewing workshops from her purpose-built studio.  Now retired, Helen is still enjoying more time spinning, weaving and dyeing!
We have been so lucky to have received over 200 beautiful handmade face masks from Helen.  The masks are absolutely beautiful, designed in a variety of lovely colors and patterns.  The masks have been distributed to all of the 5 homes in the Beritaz group and have been very gratefully received by all the staff.  The masks are washable, and the staff are using them outside of work in order to keep themselves and others safe from infection.
We cannot thank Helen enough for her efforts to provide PPE to our homes, her help and donations continue to provide the staff and residents with protection against Covid-19 and we are truly grateful for all the time and effort that Helen has put into providing us with these wonderful masks!