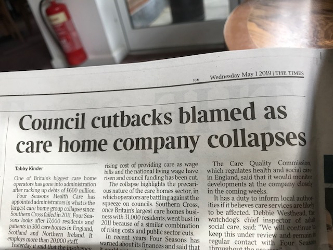 One of Britain's largest care home groups, Four Seasons Health Care (FSHC), owned by Private Equity Investors has gone into administration; with 253 residential and nursing care homes, serving about 17,000 residents and patients, employing roughly 20,000 staff.
We understand this may raise concerns amongst some of our residents, relatives. Here we explain how we are different to ensure stability and continuity. It is true that providing care has become complex and expensive over the recent past with reduction in public spending and increased staff costs through national living wage, pension contributions etc. and the staff shortage exasperated by Brexit
As we are a small, dynamic and innovative family-owned group of nursing and residential care homes, we are able to be agile and adopt to such changes better than a much larger organisation whose overheads are bigger and difficult to control. During the past 12 months we have worked hard to reduce some non care related costs through use of technology, 'out of the box' thinking and collaborative working with suppliers and commissioners. We are a UK based business, funded and run in the good old – fashioned way, through traditional bank lending without any outside investors or complex investment vehicles, looking for quick returns on their investments!
We are continuing to invest in our services to improve standards and experience.
We may be small, non glitzy, but our priority is our residents and our employees. We are committed to providing the very best care in a safe and comfortable environment investing in the stability and security of our business. Our own clients testimonies and quality ratings are the evidence of our commitment to quality and consistent delivery.
We are aware that the recent Four Season news can be unsettling for many, but rest assured the news is no reflection on us, our story is different!