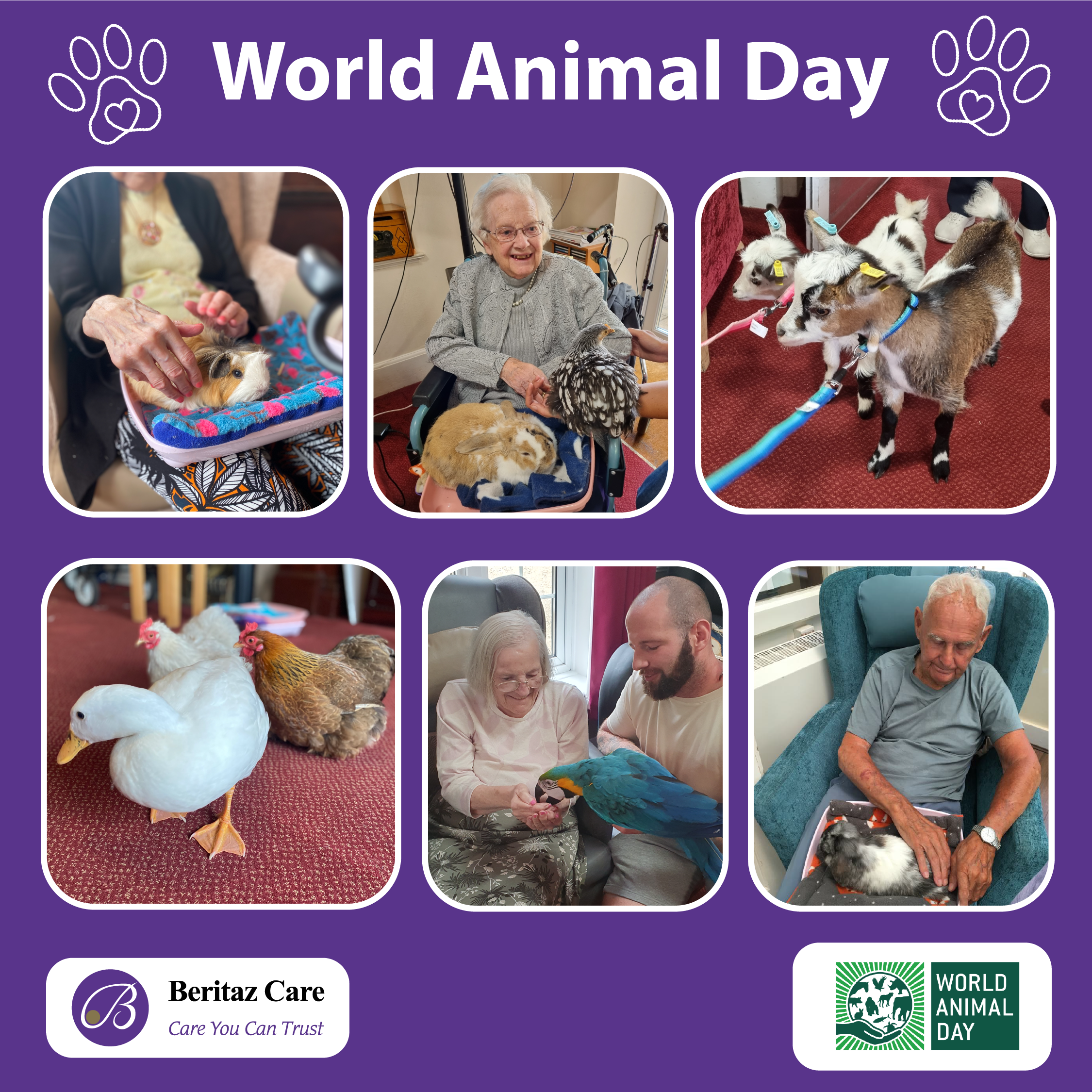 In celebration of World Animal Day, we wanted to share with you some of our favourite furry and feathered friends that we are lucky enough to have visit our homes. We are all animal lovers at Beritaz Care and we know the positive impact interacting with animals has for our residents.
Many of our residents have had pets or been around animals for much of their lives, so being able to give them experiences with animals whilst they are living with us is something we strive to do. We are fortunate to work with several fantastic organisations across Dorset and Surrey who help us to arrange animal therapy sessions within our homes. We are regularly visited by all kinds of fascinating critters, from rabbits and guineas pigs, to dogs, and even the occasional baby goat or parrot! All of these animals are very well cared for and handled carefully by these organisations, to ensure they are comfortable and happy when visiting the residents. Being able to interact with these animals brings a lot of joy to our residents and giving them a cuddle or pet can be very relaxing.
The residents enjoy learning about these animals, particularly those that are a bit more unusual or that they have never seen up close before. These visits also encourage our residents to revisit memories from their lives of their own pets and share stories about their animals. Animal therapy is a frequent part of our activities schedule, we know the powerful impact these sessions have on our residents' wellbeing and are grateful we are able to provide this experience. As many of our staff also have their own pet dogs, they will sometimes pay a special visit to the homes as a nice surprise to brighten our residents' day. Having these animals running around the homes can be chaotic at times but it's always worth it to see the big smiles on our residents' faces, while they watch the animals playing and having fun.