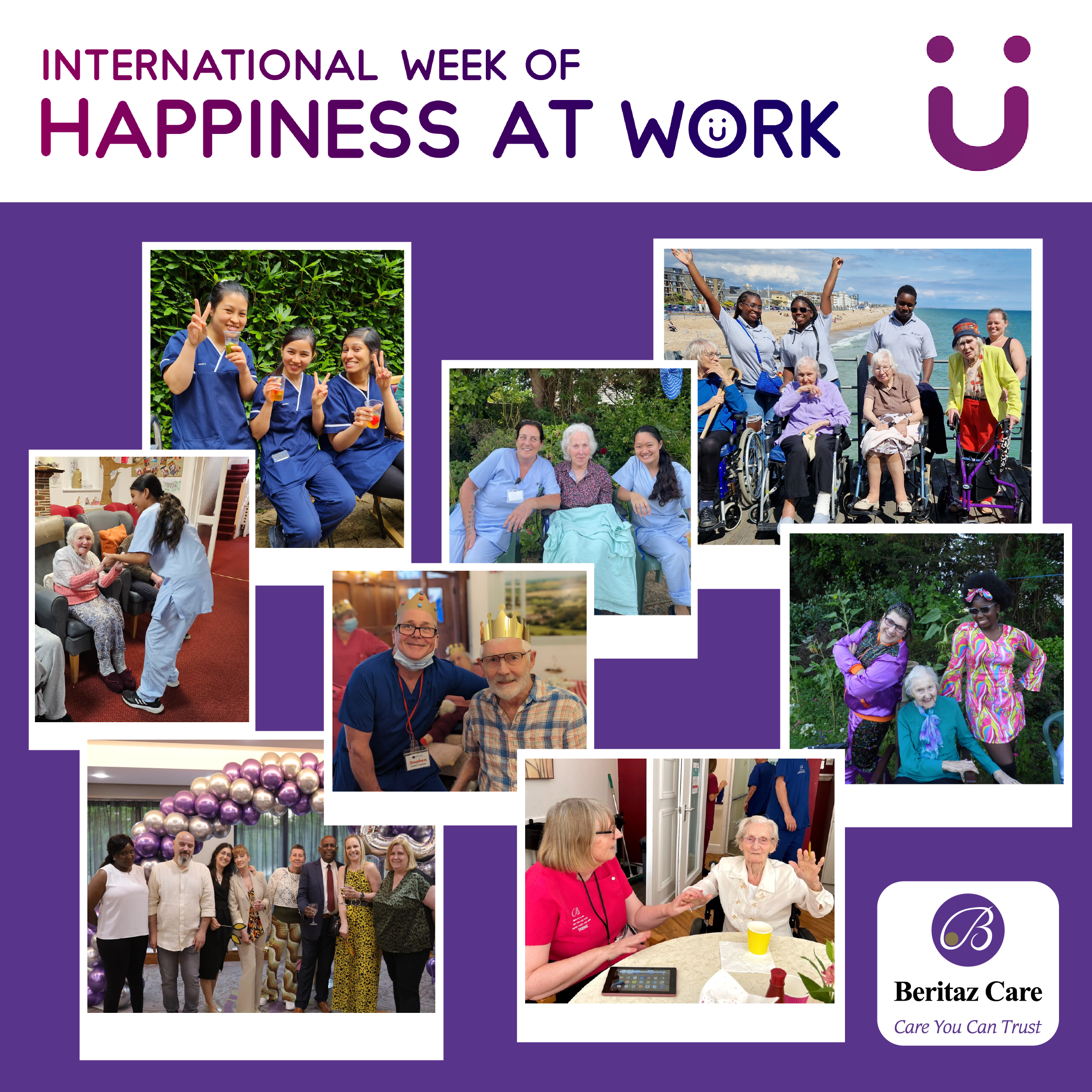 One of the primary ambitions of Beritaz as an employer is to ensure the happiness of all the staff in the Beritaz family. This week is the International Week of Happiness at Work, an initiative we are in full support of and which strongly mirrors our ethos at Beritaz Care.
Everybody wants to be happy, in their personal life as well as their working lives. We spend a lot of time at work, and we want it to be an experience that brings us joy. If we are happy in our working lives this is likely to have a positive impact in other areas of our life as well. This is what the International Week of Happiness at Work is all about, trying to make happiness at work a top priority for organisations all over the world.
At Beritaz Care we call ourselves a family, a description which we put a lot of meaning behind. We are there for each other in good times and in bad, in celebration and sadness. The staff across our homes show amazing teamwork every day, creating an environment where everyone is happy to come to work each day. Our staff know that management are always there to support them, whether they are facing a struggle in their working or personal lives, we will be there to offer a listening ear. We want our staff to be happy and will take every opportunity to make sure this is the case.
Happiness and fulfilment go hand in hand, at Beritaz Care we want our staff to see working for us as more than just a job, but as a path to achieve their career ambitions. We provide staff training, support with individual qualification and opportunities for progression. We want our staff to succeed and feel satisfaction in the work that they do, which in turn helps us to provide a high level of care to our residents.
At Beritaz we know the importance of having fun and letting off some steam. Our staff regularly take part in team bonding activities where they can share some laughter and enjoy the close relationships they have developed with their colleagues. Earlier this year we came together as a company to celebrate the 25th anniversary of Beritaz Care. We hosted a wonderful party where staff from across our homes could share in the happiness and pride of this milestone that we have all worked hard to achieve.
Visit the Beritaz website to find out more about our staff and why they enjoy working for Beritaz Care; https://beritazcare.co.uk/staff-studies/ and find out more about the International Week of Happiness at Work campaign here; https://internationalweekofhappinessatwork.com/