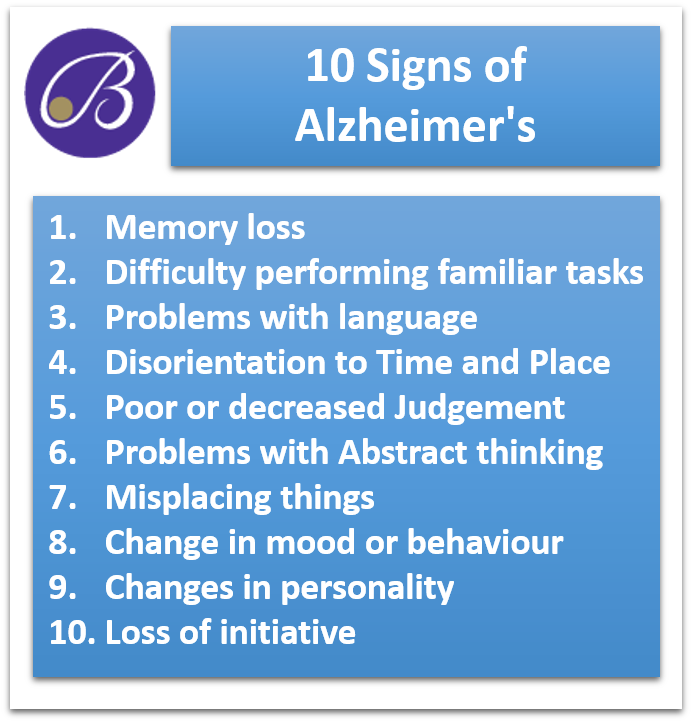 What is Alzheimer's Day?
Alzheimer's day focuses on educating the young and old of the incurable disease. By increasing the public awareness of the signs and symptoms, Alzheimer's awareness day hopes to eliminate the stigmatisation that surrounds Alzheimer's and dementia.
Quick facts
Alzheimer's disease is the most common cause of dementia
In the UK 850,000 people have dementia
There are 40,000 younger people who suffer from dementia in the UK.
2/3 of those with dementia are women.
There are 670,000 carers for people with dementia in the UK
What is dementia?
Dementia happens when a person's brain is impaired by a disease or injury, most commonly from Alzheimer's disease or stroke. Dementia effects the processes of the brain and the effects worsen over time.
10 signs of Dementia from Fisher Centre for Alzheimer's Research foundations
Why is Alzheimer's Day important?
The Fisher Centre for Alzheimer's indicates that there are at least 30 million people living with Alzheimer's in the world today, and that the number looks to double by 2030.
Dementia is often not spoken about or hidden in society, the social stigma and lack of awareness is a central problem that Alzheimer's day aims to tackle.
Alzheimer's and Dementia have not yet been cured but research continues to uncover and determine the causes of dementia and how the illness can be slowed.
Dementia Carers
It's also important to support the huge number of carers looking after those with Dementia in our communities who are dedicated, often lack support and in some cases are under paid. Many family members and friends take on the crucial role of a carer when a loved one is diagnosed. As the patients' needs increase the role becomes increasingly harder, it's important to be aware of the support from your local authority.
How can you get involved?
Events and fundraising are being carried out across the world. Memory walks are popular in the US and UK. The Alzheimer's events page lists the huge range of events that are carried out across the UK, see here.
Dementia at Beritaz Care
At Beritaz Care we focus on training our staff so they are fully equipped to understand how to care for our residents with dementia.  As we continue to learn more about the illness we have adapted to how we treat our residents. No two residents are ever the same, with respect, warmth and patience we deliver excellent care. If you have a love one that needs caring for, contact us today and read our Dementia page.